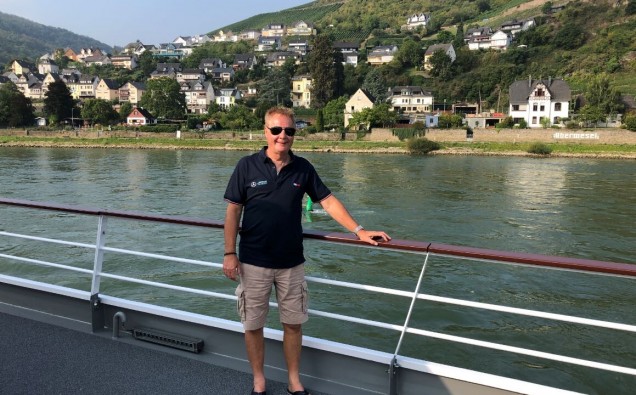 David Powell takes a river cruise onboard one of CroisiEurope's fabulous river ships … 
One of the many things I like about river cruising is that you arrive at the heart of a destination most times, just a short walk to the city or town centre. 
CroisiEurope have been cruising the rivers of Europe since the early 80's and now have an impressive 45 river ships. Their ships regularly sail the rivers Rhine, Danube, Rhóne, Guadalquivir, Elbe, Seine, Gironde, Venice and the lagoon, Douro and the Loire. My wife and I chose the 6-day Splendors of the Romantic Rhine Valley on the beautiful Lafayette. Strasbourg in France was to be the start and finish of our Rhine river cruise. 
With no flights involved, we took the Eurostar to Paris and onwards by TGV direct to Strasbourg where we had decided to stay overnight before joining Lafayette. The TGV service is incredibly fast and according to an app downloaded to my phone we were averaging 150 mph and on several occasions reached a top speed of 199 mph! Our overnight stay enabled us to explore the European Capital, Strasbourg, which is the second most popular tourist city in France; Paris being the first. 
Lafayette is a premium ship with just 43 cabins and a maximum of 82 passengers. Our cabin, 209 on the upper deck, was climate controlled with bathroom, shower, satellite TV, radio, free Wi-Fi and a safe. Best of all, our comfy double bed was situated facing the large floor to ceiling picture windows and the Juliet balcony and each morning we awoke to super views as we cruised along the Rhine. 
After settling into our cabin, we then made our way to the large and spacious lounge. Complete with dance floor and a bar (expertly operated throughout by Lorand and Alexa) the lounge is located at the front of the ship with panoramic views from all angles! Cocktails, games, dancing and other entertainment all happen here, and this is where we had welcome onboard drinks and met the crew.  
Following dinner, we were off on the first of the week's excursions, an evening tour of the historic Petite France area of Strasbourg. Moored close to Lafayette we boarded a glass-domed boat, and our journey took us past winding canals alongside charming, colourful half-timbered houses and narrow alleyways. We passed the Tanners Quarter, the Covered Bridges and saw the European Court of Human Rights Building and so much more. 
Up early the following day and spectacular weather greets us. After a splendid buffet breakfast, we head out to the sun deck with an easy fitness class led by Lea the cruise entertainment host, before relaxing and enjoying our first-morning cruise. Plenty of chairs and sun loungers, it was never a problem finding somewhere to sit and watch the world go by. 
In the early hours of the morning, we had left France and were now in Germany heading for our first stop, Rudesheim, where we arrived just after lunch. A beautiful town and from the ship our tour included a ride on a little train through the vineyards, wine tasting and a fascinating visit to the Museum of Mechanical Musical Instruments before free time along the famous Drosselgasse, a cobbled street filled with historic buildings, restaurants, bars and shops. The Drosselgasse attracts more than three million visitors on a yearly basis due to its authentic atmosphere. 
Departing the next morning was a highlight of Lafayette's journey, spectacular scenery with seemingly endless fairy-tale castles perched high on the banks at nearly every bend of the river as we cruised to Koblenz. On arrival again just after lunch, it was just a short walk to the city centre where we explored on our own and got slightly lost in the main shopping district! A friendly local pointed the way back to the river, always a good landmark on a river cruise! We were soon back on board for a fabulous dinner of vegetable soup, salad, duck confit in orange sauce with gratin dauphinois and Brussel sprouts followed by iced nougat, cheeseboard and tea or coffee. Lovely wines, of course, were flowing throughout. 
The following morning and we're off again this time cruising to Mainz where our afternoon tour included a professional guide showing us the highlights of the city and the Gutenberg Museum, the world's most beautiful museum of printing equipment materials and books. Here I was able to use a centuries-old printing press with real ink to reproduce a page of Gutenberg's bible on parchment paper – great fun! 
All too soon our splendid cruise is coming to a close, our final day cruising to Mannheim where we take a short coach journey to Heidelberg (the city of the Romantics), visit the castle and admire the stunning scenery from high above the city before free time and return to the ship. It's the Captain's fabulous Gala Dinner and when we say goodbye to the lovely crew and newfound friends. 
For more information on exclusive Cruise deals, Call CroisiEurope on 020 8328 1281 or visit www.croisieurope.co.uk