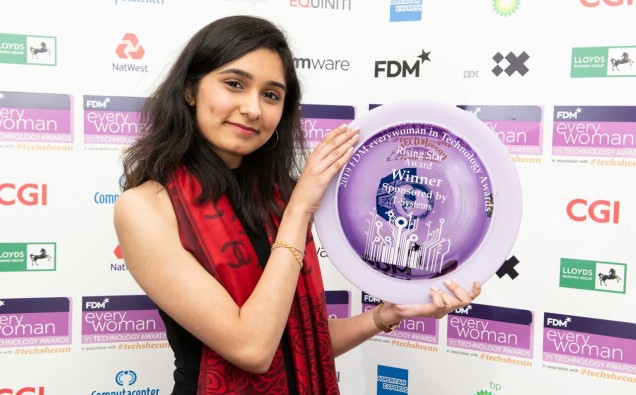 The 2019 FDM everywoman in Technology Awards: Celebrating International Women's Day with tech's brightest talent 
The winners of the 2019 FDM everywoman in Technology Awards, in association with The Tech She Can Charter, have just been announced.   
 Taking place the week of International Women's Day, the awards celebrated 50 of the most talented individuals shaking up the tech industry, both in the UK and beyond and showcased the huge contribution women are making to developing and implementing exciting new products and solutions. These included the founder of a business helping engineers perform complex inspections using drones; a young CEO who created an app at the age of 16 to teach thousands of children how to code; and a leader whose innovation helped drive over £500million in global revenue. 
 Research by PwC has found that only 5% of leadership roles in the technology sector are held by women and just 3% of British female school students would consider a career in tech.* A shortage of female role models was cited as one of the main reasons young women don't feel encouraged to nurture their interest in technology, which is why platforms such as the FDM everywoman in Technology Awards that share the success stories of individuals at all stages of their career are so vital.   
 Aside from category winners announced on the night, the overall Woman of the Year was Felicia Meyerowitz Singh, CEO and Founder of Akoni, from London. On setting up her own finance business in India, Felicia identified a lack of resources available to SMEs and that banks didn't offer decent interest rates to small businesses. This inspired Akoni – a digital cash management tool, specifically for smaller businesses, investors and charities. Felicia is dedicated to gender diversity in finance and technology, which is why she founded a "Female Founder" group offering mentorship to young female entrepreneurs and dedicates her time to promoting gender equality. Her passion for helping small businesses thrive and succeed is what made her truly stand out to the judging panel.  
 On behalf of the judging panel, Maxine Benson MBE, Co-Founder of everywoman, comments: "This year showcased yet another selection of talented individuals from all around the world, across different sectors and from all walks of life. Their phenomenal achievements within the technology industry make us proud to announce them as everywoman ambassadors."  
 Sheridan Ash, Technology Innovation, and Women in Technology Leader at PwC adds: "The FDM everywoman Technology Awards is the perfect opportunity to celebrate fantastic role models within the tech sector across multiple industries. Award categories like Rising Star and Male Agent of Change are essential for changing the ratio for the gender imbalance in technology careers and I'm delighted that The Tech She Can Charter supports this. Every winner should be proud of their achievements and continue the great work they're doing to inspire others, particularly the younger generation, into technology careers". 
 Some of the 2019 FDM everywoman in Technology Awards winners were: 
One to Watch Award

 

– sponsored by Computacenter

: 

Leslie 

Sarango

 Romero, Student at Harris Academy 

Bermondsey

, from London

, who

 created a virtual reality game called 

Eduscape

 that can be downloaded as an app

,

 and helps teens develop their interest in mathematics

 
Rising Star Award

 

-

 

sponsored by T-Systems

: 

Mahek

 

Vara

, Founder and CEO of Code Camp

, from Harrow

, who 

founded the charity when she was just 16 years old and studying for A-Levels. Code Camp 

provides children from all walks of life with the opportunity to learn how to code

. 

Now 18, she 

has already helped teach more than 70,000 children in India

, alone, 

how to code

 
Digital Star

 Award

 – 

sponsored by CGI

: 

Esther 

Kieft

, 

Former 

Product Owner

 at 

Lloyds Banking Group

, from London

, who 

completed the graduate scheme as a top performer after having delivered 

impressive

 strategic digital initiatives. She is now responsible for designing the mobile and tablet banking experience for over 10 million mobile users

 
Software Engineer Award

 – 

sponsored by 

NatWes

t

: 

Pae

 

Natwilai

, CEO and Founder of 

Trik

, from London

, 

who designed software

 to help engineers inspect large structures

 

using drones, 

by

 turn

ing

 photos into

 

3D models. 

Throughout her career

, 

Pae

 has

 

also 

become a

 vocal advocate for programmes that support 

women in tech

 
Academic Award

 – 

sponsored by Lloyds Banking

 Group

: 

Apala Majumdar, Reader at The University of Bath

,

 and 

OCIAM Visiting Fellow

,

 University of Oxford

,

 from Bath

, who

 

was 

promoted to "Readership" 

in 2013 

- 

a permanent p

osition

 with research, teaching and leadership responsibilities.

 She specialise

s

 in 

L

iquid 

C

rystal

s

 and has published over 40 papers to date. 

Apala

 

inspires

 female researchers 

globally

 through mentorship and

 

female-

empowerment

 events

 
Inter

national Inspiration Award

 –

 sponsored by IBM 

iX

:

 

Mudje

 

Esin

, 

Founder 

o

f 

KizCode

 – 

a Social Enterprise which empower

s 

young women in underprivileged communities through education technology and coding workshops. Since the platform was established in 2016, it has taught coding and technical skills to 

over 

5000 girls and young women