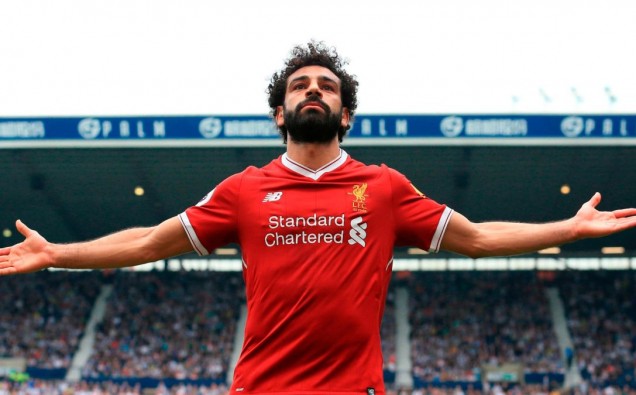 Liverpool's Egyptian forward Mo Salah has been awarded the Professional Footballers' Association Player of the year award for 2017-2018.
Salah arrived from AS Roma last June for a fee of approx. £35m, scoring 41 goals so far in an outstanding debut season and with four games left, Salah has the opportunity to become the sole record holder for most goals scored in one Premier League season. "It's an honour and especially as it's voted by the players. I am happy and proud," Egypt international Salah said.
"I didn't have my chance at Chelsea. It was clear I would return and show everyone my football. I think I left and came back a different person, man and player."
Liverpool boss Jurgen Klopp said he was "happy to have the opportunity" of being Salah's manager and added it was an "unbelievable honour" to win the award.
"It's been a fantastic ride, but we still have games to go," Klopp said. "But please grab the trophy and come home. We play on Tuesday!"
Salah beat the prize from Kevin De Bruyne, Leroy Sane, David Silva, Harry Kane & David De Gea in which the winner was voted by their fellow peers.
During the award ceremony, the PFA also awarded the prizes for the best young player and female players.
The PFA young player of the year award was awarded to Leroy Sane of Manchester City.
Fran Kirby of Chelsea won the Woman's player of the year award with Lauren Hemp of Bristol City picking up the young player of the year award.
Former England captain Casey Stoney, who retired from football this year, picked up the PFA Special Achievement award.
Former West Brom and England forward Cyrille Regis, who died in January at the age of 59, was honoured with the PFA's merit award during the ceremony at the Grosvenor House Hotel in London.
Kevin De Bruyne was also a strong favourite to pick up the award after his fantastic season at Manchester City, playing a key role for Manchester City this season and guiding them to the Premier League.
He has provided the most assists and created the most chances this season and scored eight goals so far this season. It's been an outstanding season for him, and this was echoed by his manager Pep Guardiola who felt he should have won the award "When you are analysing nine months or 10 months then there was no player better than him.
"In terms of the continuity and playing every three days in all competitions, he was there. I am sorry, maybe with numbers, there are numbers guys better than him, but no player in this season with the team who wins [the title] five games before the end, and he was the best. "I would like to feel that he deserved it. But at the end in the summer time we will be at home being champions and for that to happen the players have to play."
De Bruyne's club team mate Leroy Sane who scored nine goals and racked up an impressive 12 assists has also had a fantastic season and has played an instrumental role as part of Guardiola's attack. He has improved considerably from last season and has scored important goals against Arsenal and Liverpool. His electric pace has given the City team a fantastic attacking outlet to beat Harry Kane, Ederson, Raheem Sterling, Marcus Rashford and Fulham wonderkid Ryan Sessegnon.
"I am really honoured to win this award," said Sane. "Thank you to the fans and my team-mates. Congratulations to all the players who played alongside me. They played a good season."
England manager Gareth Southgate was pleased to see four English players nominated for the award and said the country has "exciting players and talent" coming through ahead of the World Cup in Russia.