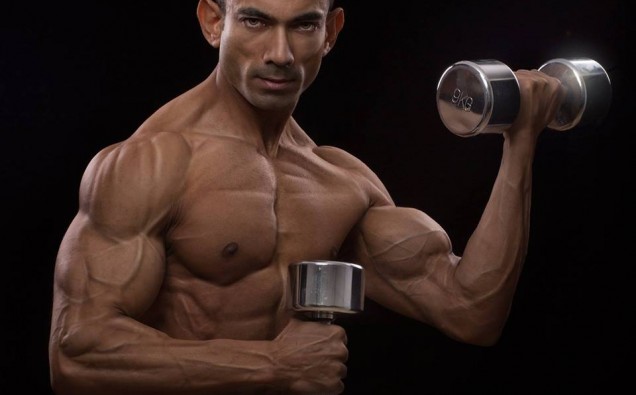 Pakistan's Birmingham-based British Bodybuilding Champion and fitness trainer Syed Rahat Ali Shah said the scenario of international sports has changed altogether due to growing
coronavirus pandemic and now all the sports competitions including bodybuilding will likely
to be conducted with extraordinary preventive measures across the globe; he expressed these views in his exclusive telephonic conversation with 'Sports Times International' Magazine on May 3 (Wednesday).
Rahat Ali Shah said definitely it's a deadly virus and right now, the entire world is facing the chaos of coronavirus. "It is the perfect time for every individual especially sports persons to take extra care to get rid of this pandemic.
We need to adopt all the essential measures to fight this deadly epidemic effectively," he added.
"My message for sports persons especially bodybuilders in the present scenario is that they must stay at home and keep on trying to do some home activity or body weight training to
boost their immune system. "We should drink lemon in hot water quite frequently and avoid junk food as much as we can," he opined. Replying a query regarding international bodybuilding events affected by coronavirus, Rahat, who became the first Asian and Pakistani to clinch coveted British Bodybuilding title at Nottingham in October 2018, informed that all international bodybuilding events have been cancelled due to this fatal virus.
"I was quite prepared both mentally and physically to compete in the coveted event of Arnold Classic in Spain in September this year but unfortunately it has been deferred and now Arnold Classic and other top bodybuilding events will be rescheduled probably next
year depending on the world condition in the wake of coronavirus pandemic," he explained.
Answering a query, British Bodybuilding Champion Rahat Ali Shah said the feeling of representing Pakistan in top international events abroad and then earning laurels can't be expressed in words. "Definitely, the love for the country is a great blessing and our youth must inculcate this spirit among them and if they managed to do this then nobody can halt their way to success," he added.
Rahat Shah achieved several remarkable distinctions in the field of bodybuilding during his brief career. His outstanding achievements in bodybuilding despite living overseas are definitely a great source of inspiration for young and emerging bodybuilders in Pakistan.
Rahat, who has studied fashion photography and graphic designing in UK, excelled in UKBFF Championship getting first place in 2017 and also emerged ABF Overall Champion the same year.
Rahat, who launched his bodybuilding career in UK in 2017, finished 6th in IFBB Arnold
World Classic Bodybuilding Championship in Spain in 2018 and after just two weeks time he
emerged triumphant in British Bodybuilding Championship in Men's Physique Category.
He became the first Asian and Pakistani to clinch this coveted title at Nottingham in
October 2018. It may be recalled here that top 20 competitors from across the Britain
participated in this event. Moreover, he also got top position in Sugar Classic events
in 2017 and 2019 at Leicester, England. Rahat, who is a fashion designer by profession,
informed that after grabbing 6th position in IFBB Arnold World Classic Championship now
he is eligible to participate in all leading international bodybuilding competitions throughout
the world. "Becoming world champion in bodybuilding is my next goal. I'm working
hard to achieve this fabulous distinction.
I know it's not an easy task but I'm quite determined to grab this honour in future,"
he asserted. Rahat, who also has a respectable status as a fashion model, urged the Pakistan
youth to serve the beloved motherland with great amount of sincerity and commitment.
"Our country is a blessing of Allah. It has given us a true identity and everything. We
must spend all of our energies and talent for the wellbeing and development of our
country," he expressed his sentiments in a bit emotional tone.
Answering a question regarding govt support for bodybuilders and fitness trainers in Britain,
Rahat said top bodybuilders and fitness trainers in Britain got plenty of financial support and
this support provides them much needed motivation to do extra hard work.
Rahat Shah said the trend of fitness training and bodybuilding is growing rapidly across
the world including Pakistan. Even the fitness culture is being adopted as life style in several
countries. "It is a positive sign that the passion of bodybuilding is growing among Pakistani
youngsters but unfortunately they did not get qualified trainers to provide them proper
guidance and certainly it is a bitter fact".
Elaborating his point Rahat said nonqualified trainers are posing serious threat to young
bodybuilders because usually they don't have proper knowledge and information about
modern bodybuilding. "Generally young boys only watch some past photographs of their
trainer and assume that they can become like him in a brief time which is impossible. Young
bodybuilders should not follow the instructions of a non-qualified trainer blindly regarding
the use of any drug.
Always do proper research before taking anything," Rahat advised. Responding a question
regarding importance of diet in the fitness of a bodybuilder, Rahat told that diet has 80
percent role in body fitness of an athlete. "It is imperative for everybody to have
proper information and knowledge about nutrition and diet plans. Our young boys and girls
must follow diet plan strictly if they wished to attain the ideal body fitness and success as
well".
He said right food, right training and proper sleep can bring a positive change in a
bodybuilder's life. "I always make it clear to my juniors and students that they can become better than me, but for this purpose, they need to bring consistency and discipline in their
lives. Pakistan youngsters want to become Arnold Schwarzenegger overnight which
is impossible. Our young generation needs to show patience to achieve their goals,"
he advised.
Rahat Shah, who is a pure family man, provides big inspiration to those who want to achieve
their goals. He proved his doubters wrong through his sheer determination when many
people guessed that he could not become a top bodybuilder. "The motivation and support
from my family especially my daughter played a big role in my achievements as bodybuilder,
fitness trainer and fashion designer". Shah told that he suffered an injury in the UK which
halted his progress for a short while but with the support from his family especially his
daughter, who inspired and motivated him to start training again, he managed to regain his
excellent shape in just 12 weeks time.