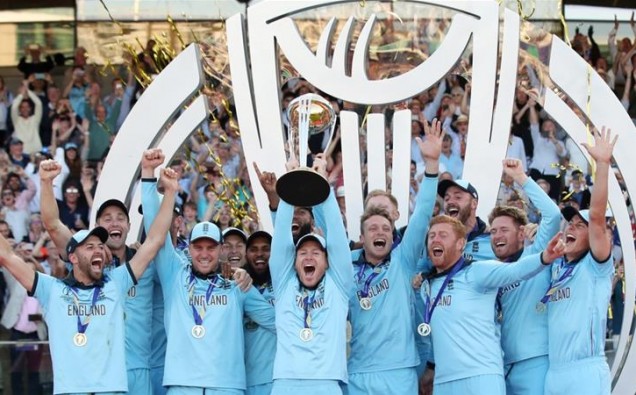 England have won their first ever World Cup Cricket Trophy in a heart palpating final that came close to either side securing the win. The English team left New Zealand devastated as they went home empty-handed after coming so far in the tournament.
Indeed, the all-important final match not only had players, but dedicated fans of either team on the edge of their seats. The last game ended in an astounding fashion, an equal tie which was broken by a unique, never before seen 'Super Over.'
The game ended with both England and New Zealand achieving 50 overs respectively. England had 242 after their innings, and New Zealand 241-8. England's heroic pair Buttler and Stokes for the tie-breaker, they managed to gain 15 runs, leaving New Zealand to need 16 runs to win the title. The latter team, however, failed to do so and had to leave the stadium heart-broken.
England's Stokes was crowned 'Man of the Match' once again as he held his own for his home team, scoring 84 runs from 98 balls, ensuring they caught up with New Zealand to even out the playing field before taking the win.
Opening batsman Jonny Bairstow, commented on how he felt about receiving the trophy: "Elated. But first of all, massive commiserations to the New Zealand boys.
"It was one hell of a game – edging one way, then another. They've had one hell of a tournament."
England hero Ben Stokes said he was left speechless after the final.
"All the hard work over the last four years, to get here and be champions of the world is an amazing feeling," he stated.
"Playing against New Zealand is always going to be a battle."
England has done their country proud and we wish them all the best in their World Cup celebrations!