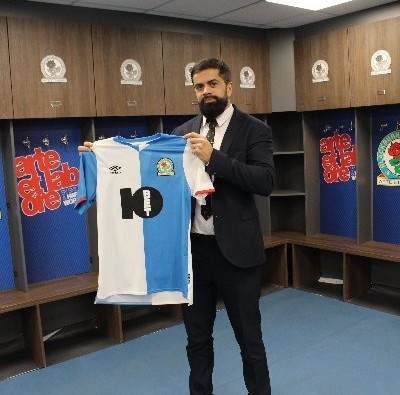 Blackburn Rovers have appointed their first integration and development manager as the club is set to establish closer links with the regions BAME community.
Yasir Sufi will be overseeing the engagement between the club and local business, schools, community organisations and Madrassahs.
"We're hoping to create a closer link with various initiatives and events for the Asian community in Blackburn," he said.
"My goal is to assist in making Rovers the heartbeat of the community, bringing a sense of pride in supporting your local club, with opportunities for all ages."
"Football has a massive role to play in breaking down barriers and bringing people together from different backgrounds to play, watch and enjoy the game."
Rovers' CEO Steve Waggott added: "During my two years at the club and as part of our fan engagement strategy, we have worked on trying to engage with the BAME community through attendance at key events, ticket initiatives and community programmes delivered by our award-winning Community Trust, but what became apparent was that the club needed someone to take ownership of this key growth aspect for the club."
"We, therefore, created a role for an Integration and Development Manager with the experience and skills to engage not only with young people and families from the BAME community but equally important with the relatively untapped BAME business community, who it is imperative we attract as future partners."
"We are therefore delighted to have appointed Yasir Sufi into this role, as he has both the skills and background to increase our reach into the BAME community and business sector. With the Next Generation initiative being such a high priority for the club, we are looking forward to Yasir playing a key part in bringing new people and businesses to Ewood Park."