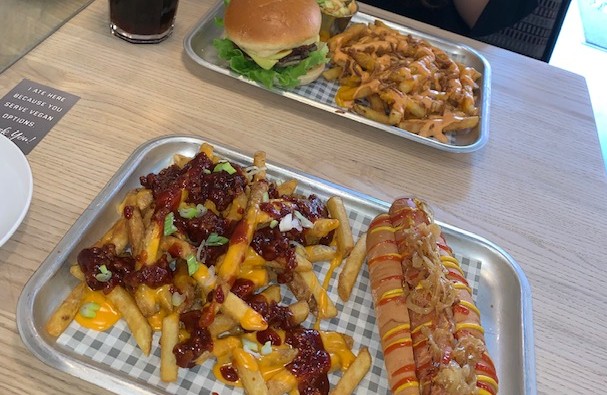 VGN Boulevard is The Black Country's first-ever all-vegan eatery, based on Coventry Street, Stourbridge. The charming little eatery indeed serves only food that is 100% vegan, but it is also devoted to promoting inclusivity, and aims to welcome customers with a range of dietary preferences. The diner heavily encourages locals from all over the area into satisfying their taste buds with new and unique plant based flavours! Within just a few months of opening, the venue has earned a reputation with the locals for its delicious burgers, sandwiches and hand-made desserts. It's no surprise to frequent visitors that VGN Boulevard's high standards have earned it a 5-star hygiene rating. It's even been awarded No.1 status on Trip Advisor as the best restaurant among 166 others in the area for its unbeatable food and excellent service. WOW!
The fore-thought of opening VGN Boulevard first came to food-enthusiast Ben and his wife Nicola, who are big on the idea of cruelty-free dining and sustainability. Indeed, their compassionate lifestyle has etched itself into their family-owned business. The restaurant owners love to work with charities and donate to causes such as Ravens Rescue UK and The Healing Horse Sanctuary, to name a few. They also have widely sustainable food and drinks options for customers to choose from – such as the unique drink Karma Cola. This sugar-sweetened syrup soda differs from your leading brand of coke and is unique for its ethos. It helps to give back to the farmers who produce the beverage in their home communities. Even the napkins at VGN Boulevard are recyclable and dye-free! In fact, everything at the diner lives up to its slogan of 'fearless compassion' and is inclusive of eco-friendly eating!
As for the diner's delectable appetizers and dishes, no other eatery in Stourbridge compares! VGN Boulevard serves the juiciest and most tender tasting burgers, with fresh produce lettuce and veg. Each one is served alongside their famous skin-on fries which can come topped with a range of tasty sauces such as cheese and thousand island dressing, warm bbq, mayo and hot chilli. They also feature American style jumbo-dogs on their menu, with mustard and fried onion, placed on a vegan soft roll. If you're feeling adventurous you can even try the eatery's currywurst option, beacon filled potato skins or beer-battered onion rings glazed with tequila, lime and jalepeño. Not to be missed are the diner's splendid range of drinks, including their bangin' hot chocolate and turmeric chai late, brewed with the soy-free option of steamed oat milk. For a sweet treat, just ask the dining staff for today's cakes of the day or indulge in a vegan sundae, with dairy-free ice-cream and whipped cream on the top! All of the eatery's splendid meals are served on a silver tray in true American fashion and with outstanding presentation.
If your taste-buds aren't tingling from reading this review, then don't just take my word for it – visit the Black Country's favourite Veggie and Vegan-friendly restaurant for yourself! Whatever your diet, VGN Boulevard is dedicated to satisfying all of its diners. So, try something new and book your table now by downloading the VGN Boulevard app or call 01384 44440 today!
Manisha Bhanot.