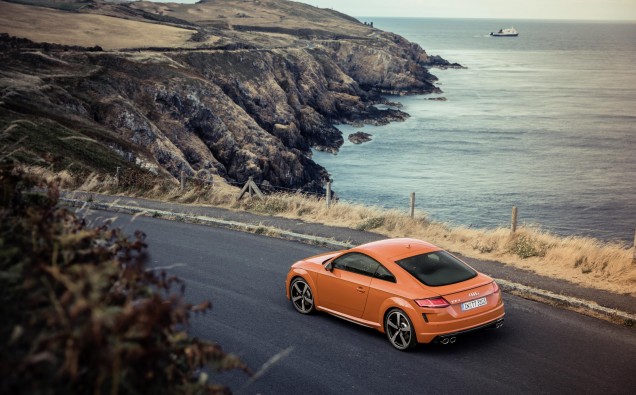 Audi TT and Volkswagen Scirocco recorded biggest increase in CarGurus searches in run up to Christmas
Popular Audi TT celebrates 20th anniversary this year making it the perfect present
It's snow joke! British drivers also preparing for winter with a spike in SUV and pick-up searches ahead of expected snowfall
All I want for Christmas… is an Audi TT. That's according to data from CarGurus, the online automotive marketplace, which has revealed the cars with the biggest increase in searches during the festive season.
The Audi TT comes top of British drivers' Christmas wish lists with searches for the sports coupe, which celebrated its 20thanniversary this year, more than doubling in December compared to November.
The Volkswagen Scirocco could also be under the tree on Christmas morning thanks to a surge in interest from potential car buyers in December.
That said, with Christmas a time for transporting family, it seems not all shoppers will be treating themselves or their loved ones to a sporty number. Some potential buyers are taking a more practical approach and looking for SUVs and pick-up trucks, which are more suitable for the long family drives and the winter months ahead.
The UK was blasted by snowstorms in the early part of 2018 and it seems British drivers are once again preparing themselves with two SUVs and a pick-up truck recording large spikes in interest.
The BMW X1, Mitsubishi L200 and Nissan X-Trail all appeared in the CarGurus list.
Most searched for cars on CarGurus this Christmas
| | | |
| --- | --- | --- |
| Number | Model | Nov – Dec increase (%) |
| 1 | Audi TT Coupe | 154 |
| 2 | Volkswagen Scirocco | 132 |
| 3 | Vauxhall Zafira | 88 |
| 4 | BMW X1 | 83 |
| 5 | Peugeot 207 | 79 |
| 6 | Audi A6 | 69 |
| 7 | BMW 3 Series | 51 |
| 8 | Nissan X-Trail | 44 |
| 9 | Mercedes-Benz E-Class | 41 |
| 10 | Mitsubishi L200 | 38 |
Car buyers can find the best deal on an Audi TT or another popular model on the list by using the CarGurus Deal Rating, which gives every car listed a rating from overpriced to great, making it quick and easy for buyers to find great deals from top-rated dealers.
Created by TripAdvisor co-founder Langley Steinert, CarGurus is the perfect place to buy a used car this Christmas as it combines dealer reviews with comprehensive car valuation analytics to bring trust and transparency to the automotive marketplace. CarGurus is the fastest growing auto shopping site in the UK*.
* Source: Comscore Media Metrix® Multi-Platform, Total Audience, Percent change in average unique monthly visitors from Q3 2017 to Q3 2018, U.K. (Competitive set: Cargurus.co.uk, Motors.co.uk, AutorTrader.co.uk, Pistonheads.com, Gumtree.com)
More about the Audi TT
The Audi TT was first introduced in 1998 with the Mk1 available in coupe and roadster form. An example is now available from £1,500 on CarGurus. The Mk2 replaced the original in 2006 with sportier TTS and TTRS versions also introduced. Prices for early second generation models currently available on CarGurus start from £4,500.
The current version, Mk3, was revealed in 2014 with a bolder, more aggressive design. Currently available listings on CarGurus start from £12,000.
Find out what CarGurus' editor thinks of the Audi TT here.
Visit CarGurus at www.cargurus.co.uk.