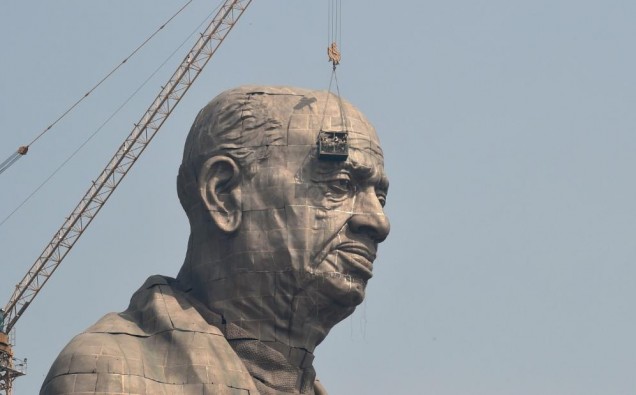 You've heard of the renowned 'Statue of Liberty', now get ready for the 'Statue of Unity.' India has surpassed the world's historic monuments by unveiling its own tribute of Sardar Vallabhbhai Patel, the country's former leader of independence in Gujrat.  
The statue is bronze-platted and stands ate a gigantic 182m, whereas lady Liberty in New York is only 93m tall, far surpassing the almost equally as famous Christ the Redeemer in Brazil, which is 38m.  
The statue has been valued with at roughly a 29.9 billion rupee estimate. With them amount of money that has been invested in the project, India are expecting a high-turnover of tourist income. Since it has first been opened in the month of November, lifts have been pre-installed in the statue to take around 15,000 to the viewing gallery per day.   
The unveiling day of the statue saw attendance from Indian police offers, the Air Force and local families as well. The statue, designed by sculptor Ram V Sutar, had flowers thrown upon it and was adorned with hundreds of green, orange and white balloons.  
Indian Prime Minister Narendra Modi has called the masterpiece "a symbol of India's integrity and resolve." Mr Modi has been particularly invested in the project, he too has his home-state in Gujrat, like the statue depicting the ex-deputy Prime Minister.  The Gujrati government have paid over half of the sponsorship funds for the project, whereas public donations and neighbouring governments have provided the rest of the funds. 
However, not all of the community have been happy about the unveiling of the statue. It is reported that the police force has been stationed at various intersections surrounding the statue to protect it from local protesters. These people; consisting of farmers and land-workers, are demanding financial compensation for the land that the statue has taken over, which they say has damaged their livelihood.  
Chotu Vasava, local legislator to the area said: "Tribal groups have been exploited by different governments, the ruling BJP [Bharatiya Janata party] is repeating it again… "I am not against Sardar, but what is the use of the statue if the people on the land have to suffer and are moved from their homes?" 
However, the statue is not expected to remain India's tallest for long as the Chhatrapati 
Shivaji Memorial, standing at an impressive 212m, is soon to surpass it in the record book. 
By Manisha Bhanot.