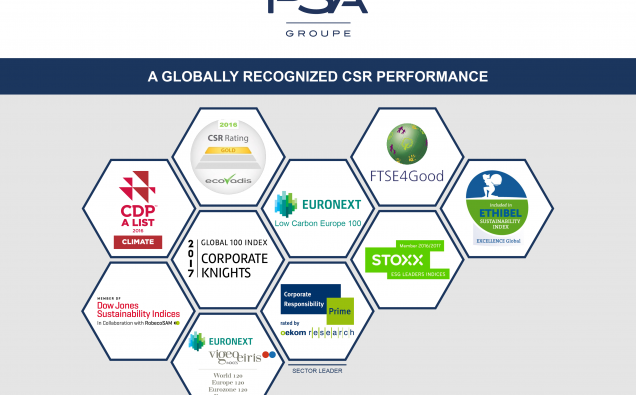 OEKOM, a German non-financial ratings agency, presented this morning its international ratings for the most responsible companies.
With a rating of "B", PSA Group is leader in the automotive industry for the second consecutive year.
PSA Group stood out from its competitors in four areas which, according to OEKOM, are key to performance in the automotive industry: fuel consumption of vehicles, life cycle analysis of the products, the social and environmental standards applied in the supply chain and, finally, the development of alternative drive systems and mobility solutions.
OEKOM acknowledged:
the leadership of the PSA Group in terms of the CO2 emissions of the fleet sold in Europe, with average tested emissions of 102.4 g/km of CO2 in 2016, as compared to an industry average of 118.2 g/km;
the safety performance of its models that obtain good results in Euro NCAP assessments;
the efficiency of its life cycle analysis approach and the efforts made in terms of the eco-design of its products;
the astuteness of its mobility solutions, which are respectful of the environment.
OEKOM analyses more than 3,800 companies based on their publications and the information provided by independent external sources such as NGOs, government authorities, unions and the media.
Performance in terms of Corporate Social Responsibility (CSR) is rated by OEKOM on a 12 Level scale from "A+" to "D-", using around one hundred environmental and social indicators, specifically selected for each business segment.
Media contact: (+33) 1 40 66 42 00 – presse-psa@mpsa.com
About PSA Group
With sales and revenue of €54 billion in 2016, the PSA Group designs unique automotive experiences and delivers mobility solutions that provide freedom and enjoyment to customers around the world. The Group has three car brands, Peugeot, Citroën and DS, as well as a wide array of mobility and smart services under its Free2Move brand, to meet the evolving needs and expectations of automobile users. The automobile manufacturer PSA is the European leader in terms of CO2 emissions, with average emissions of 102.4 grams per kilometre in 2016, and an early innovator in the field of autonomous and connected cars, with 2.3 million such vehicles worldwide. It is also involved in financing activities through Banque PSA Finance and in automotive equipment via Faurecia. Find out more at groupe-psa.com/en.