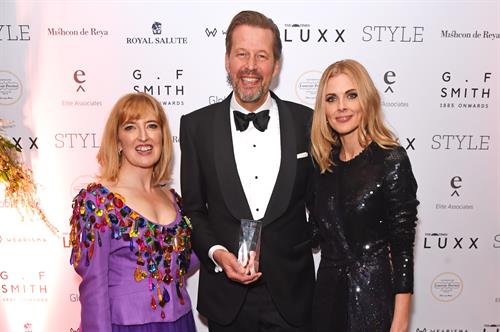 British actress and television presenter Donna Air presented the 'Future Legacy' award to Bentley at the annual Walpole Awards in London. The award honours an iconic British luxury brand chosen to use the power of its heritage to build a visionary and relevant future.
Receiving the award, which puts innovation, sustainability and purpose at the heart of Bentley's objectives for the next 30 years, Stefan Sielaff, Bentley Design Director, commented: "The EXP100 GT is our ideological manifesto, which is catapulting not only our design language but also our brand identity into the future.
"It was a privilege and a pleasure to collaborate on this project with a range of other great British companies similarly dedicated to authenticity and to their distinctive areas of craftsmanship – such as embroidery, glass and fabric. The question for the future of luxury will derive from a wide range of innovative ideas, including sustainability, local sourcing, organic materials and social responsibility.
"We all have to inspire our customers and at Bentley we aim to fulfil the promise we made with this unique piece of Centenary design translated into our production cars within the next years."
Award-nominated English actor, singer and songwriter Laurence Fox presented awards across 10 categories from a shortlist of brands which included the V&A Museum & Christian Dior: Designer of Dreams; De Beers; Burberry; Ralph & Russo and Smythson among a celebrated collection of British luxury brands.
The annual Walpole British Luxury Awards is dedicated to celebrating the very best high-end products and services from a diverse range of British businesses: from fashion, fragrance and fine jewellery to hotels, automobiles and accessories.
The winners of the prestigious awards are selected by a panel of industry experts, headed up by Walpole's Chairman, Michael Ward, Managing Director of Harrods and Walpole's CEO, Helen Brocklebank.
"It's a privilege to give the inaugural Future Legacy award to Bentley," commented Walpole CEO Helen Brocklebank.
"As one of the UK's most extraordinary car marques, this year saw the brand celebrate its centenary by unveiling its vision for the future of luxury driving, the EXP 100 GT – a technological tour de force of design and driver excitement.
"A passion for innovation, used sustainable materials and fine craftsmanship has defined Bentley over its first 100 years and continues to do so today."