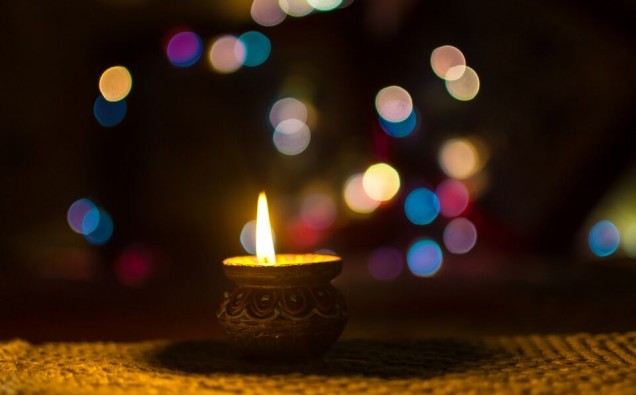 This year Diwali will fall on the 27th of October  
Diwali often occurs at the end of the harvest season when produce is cropped and collected. Diwali is the biggest event celebrated in India and is believed to uphold the triumph of good over evil, and light overcoming darkness. 
The festival of light is observed on the day of the new full moon, or 'Amavasya' as it is called in Sanskrit. Diwali is held on the 15th day of Kartik, in line with the Hindu calendar. In reference to ancient mythology, Diwali has also been referred to as Deepapratipadutsava. When the occasion was celebrated in India centuries ago, newlywed couples were often gifted lamps and new clothing as a reminder of Lord Vishnu and Goddess Lakshmi's marriage.  
In 9th century works, narratives mentioning Diwali mention to the cleaning of homes and decorations with lights and rangoli.  According to popular folklore, Diwali is the remembrance of Lord Rama and the Goddess Sita's return from exile. It is one of the reasons why Diwali is mentioned as the festival of prosperity and wisdom.  
For Sikhs, Diwali is actually the celebration of 'Bandi Chhorch Divas.' This event marks the occasion in which Shiri Guru Hargobind Sahib Ji freed 52 Rajas from prison, under the rule of the Mughal Emperor Jahangir. The day is a celebration of the selflessness of the religion's 6th Guru. It is celebrated at the same time as the Hindu Diwali.  
 The two celebrations share much of the same traditions, such as the sharing of gifts, lighting of clay lamps, fireworks, eating of mithai (sweets), and performing special prayers.