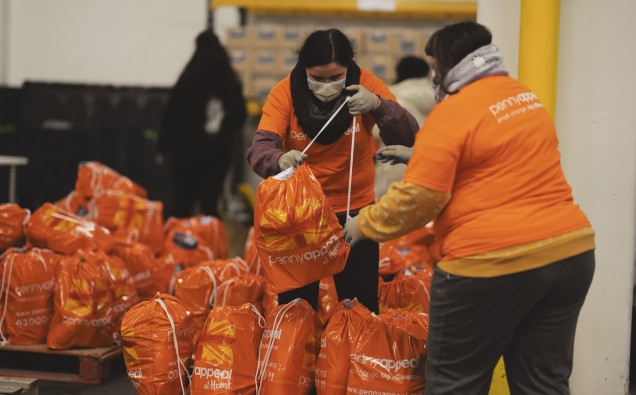 Team Orange volunteers and staff from international humanitarian charity, Penny Appeal got together at their base in Yorkshire to pack one thousand food and two thousand winter essential packs to distribute as part of their Winter Emergency Campaign. They will be distributed around Yorkshire and around the country in areas where Penny Appeal operate their services.
As winter sweeps across the UK, thousands of lives are at serious risk this year. The numbers of people at risk of ill health or death could rise dramatically due to the pandemic and with the flu season upon us, more lives will be lost. Coronavirus along with the flu, has put many elderly and vulnerable people in a desperate situation, the government has advised at-risk groups to stay isolated and avoid leaving their homes due to their increased risk of catching Covid-19 and now the flu virus.
This situation will leave millions of older people lonely, isolated, and unable to access food and essential items. Many don't have support in their communities, don't know how to order online, or simply do not have the relevant technology to do so.
Penny Appeal are working alongside other partner organisations including local churches to find and support older and vulnerable people who need essential supplies during isolation.
The food packs contain items such as milk, teabags, pasta, oil, beans, soup, rice to name but a few. The winter essential packs are filled with, toothpaste, hand sanitiser and thermal clothing amongst other things.
Sarah Ashraf, UK Communities Service Manager says: "with social distancing in place, our Team Orange volunteers and staff helped pack 1000 food and 2000 winter essential packs which will be distributed to the vulnerable and elderly across the UK. In the current climate, many of the elderly are feeling lonelier than ever, families are struggling daily, not only financially but socially too. In many instances people are suffering mental health crises as a direct result of the lockdown and it is vital that we do what we can to support them. Charities like Penny Appeal are a lifeline for those in need, offering solidarity and sense of hope in these trying times. Please help us to help those in need this winter by donating to Penny Appeal, we don't want to make anyone feel as if their home is not home!"
As part of the Coronavirus and Winter Emergency Appeals, Penny Appeal have launched a number of services to help the community during this crisis (www.pennyappeal.org/coronavirus). This includes a dedicated COVID-19 Listening Line to support the mental health and wellbeing of those struggling because of the pandemic and a Domestic Abuse Line in response to the rise in domestic abuse that has correlated with increased lockdowns.