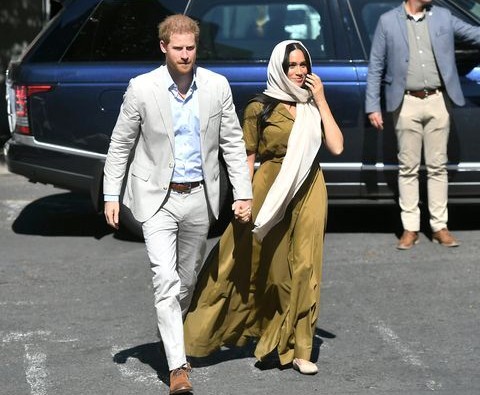 The Duke and Duchess of Sussex visited the Auwal Mosque in Bo-Kaap, Cape Town, where they celebrated the great diversity of cultures, traditions and beliefs in South Africa during their tour of Africa.  
The Royal couple held an impromptu question and answer session with the local press in South Africa. When they were asked about the message they were trying to give out, the duchess of Sussex replied: "I think what's amazing about being here today, as you can see, there's so much good happening in the world, and there's so much positivity and all of this diversity and inclusivity – think the focus is on that…" 
Harry and Meghan travelled across the stunning Cape Town beach where they learnt about a charity that uses local surfers to help the next generation to cope with the mental health stresses of living in notorious slum settlements.  
During their journey, the couple visited the Auwal Mosque in Bo-Kaap, Cape Town, where they met a few faith leaders.  
Meghan changed out of her usual clothing, out of respect for the Muslim place of worship and wore a long khaki coloured gown that swept the floor and she covered her head with a scarf.  
The Auwal Mosque is the first and oldest mosque in South Africa. Harry and Meghan were met by Imam Sheikh Ismail Londt and Muslim community leader, Mohammed Groenwald.