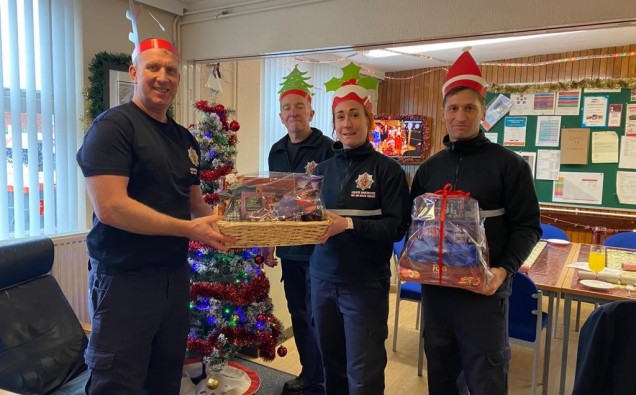 Pupils at The Olive School, Bolton are giving the gift of kindness to hundreds of people who are facing hardship and loneliness this year.
Young pupils have been taking part in activities and challenges to raise funds and spread kindness as part of their annual Festive Winter Gift Programme.
Due to COVID-19 restrictions, pupils were unable to take part in many of their usual activities. But staff at the school still found ways for pupils to make a difference.
The pupils were tasked with collecting new toys, to be donated to Bolton Lions, to help bring the fun and excitement of the festive season to children in families facing hardship. The pupils also remembered vital key workers and staff and nurses at Bolton Hospice by sending letters of thanks accompanied by gifts to show appreciation for their hard work.
Food and toiletries were gathered and donated to Urban Outreach, Bolton, a charity which provides food for households in crisis and helps the most disadvantaged and vulnerable adults and young people in Bolton.
Throughout their charitable activities, pupils were mindful of the effect loneliness might have on Bolton's vulnerable population. Pupils worked with staff to devise ways to befriend and reach out to those who were isolating, to remind them that they were not alone. Pupils sang Nasheeds in a virtual concert to residents at Strathmore and Astley Grange care homes, they wrote letters filled with kind and caring words and spent time in class talking about how lonely people in their community might be helped.
The school also joined with other Star Academies schools to take part in 'Food for All Week' where 29 schools across the Star Academies multi-academy trust distributed 50,000 food parcels and meals to those experiencing food poverty.
Sabina Saeed, Principal at The Olive School, Bolton, said that this year's Festive Winter Gift Programme had helped pupils understand the power of kindness and how their small actions could help people who were facing adversity.
She said: "Our pupils, parents and staff have worked incredibly hard during our charity drive this year to help people experiencing hardship.
"Unfortunately, this has been a difficult year for many, but thanks to our kind and caring pupils, we have been able to reach out and show people that they haven't been forgotten.
"Thank you to everyone who has supported this year's Festive Winter Gift campaign and for helping us to make a difference to so many people during the festive season."
The Olive School, Bolton is a primary free school for pupils aged 4 – 11. It is part of Star Academies, one of the UK's leading multi-academy trusts. The school opened in September 2016 and was judged to be 'outstanding' in its most recent Ofsted inspection.
For more information about The Olive School, Bolton, visit www.olivebolton.com.