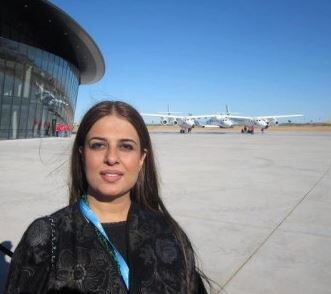 Pakistani artist and diplomat set to break boundaries 
Namira Salim was the first Pakistani to travel to the North and South pole and now aims to go into space. She told the Orlando Sentinel, while on a trip to Cocoa Beach for the Apollo 11 moon landing's 50th anniversary, that, "I've been inspired to do more. So first of all, I think I should go as far as possible on Earth before I break the orbit." She already holds a $200,000 ticket on Virgin Galactic's suborbital flights. 
In 2006, Salim became one of the founding members of billionaire, Richard Branson's, space tourism company. From tens of thousands of people who applied to go on these flights, she was adamant about being selected and spent around a year in negotiations. 
After receiving her bachelor's degree from Hofstra University in International Business and her masters from Columbia University in International Affairs, she travelled back to Pakistan and became the founding president of the nation's first International Association of Students in Business and Economics Management, which is a cultural exchange program which works alongside the United Nations.   
Salim then moved to Monaco in 1997 and worked towards improving diplomatic relations. In 2011, she became the first Honorary Consul of Pakistan to the Principality in Monaco. 
Within the 13 years from when Salim first debuted with Virgin, she consistently promoted space tourism and privatization of space. In 2015, she launched, Space Trust, to promote peace through space travel and it also set up the 0G Summit to encourage international cooperation in space. The aim is to set up the first peace summit in orbit by 2030.  
In addition to all of this, Salim may be finally heading into space. Earlier this year, Virgin sent their first passengers – members of staff- into space on test flights from the Mojave Air and Space Port in California.   
Navkiran Bains