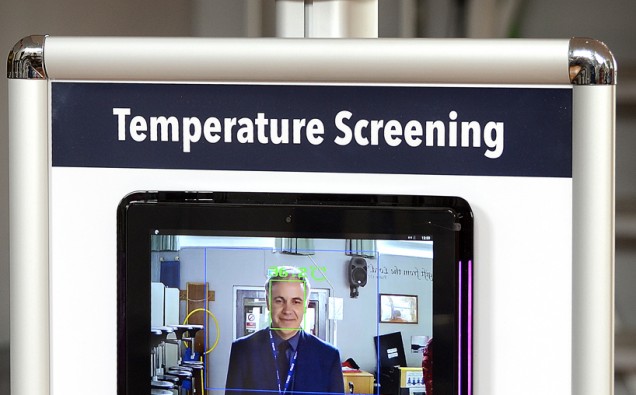 FiltaShield, the service for sanitising, protecting and monitoring COVID-19 in public spaces, went into two schools in Solihull, St Alphege CE Infant and Junior school, on Wednesday 03 June to sanitise the premises and install thermal cameras capable of detecting high temperatures, in advance of schools reopening across the UK.
FiltaShield's service has been developed to support the re-opening of public spaces by providing an increased level of protection against the spread of viral infection.
The first element of the service is sanitisation. FiltaShield's fleet of technicians sanitised and disinfected the premises, eliminating all enveloped viruses, flu and up to 99.99% of bacteria.
In addition to conventional sanitisation, FiltaShield has partnered with biotech company Zoono suppliers of a revolutionary antibacterial technology that continues to protect surfaces for up to 30 days. The product was applied to surfaces in a process called 'fogging', which permanently bonds to them to set up a nano-molecular layer of pins which create a hostile barrier to germs, physically impaling and destroying them as they come into contact with the Zoono layer. FiltaShield's technicians will make ongoing visits to the schools every 30 days, creating a report after they swab surfaces and use a specialist ATP reader to ensure the premises are hygienically clean.
Routine cleaning can continue and does not disrupt the Zoono molecule or its antimicrobial activity. As part of the service, a trained technician has also educated the schools' cleaners on how to keep the environment sanitised so that schools and cleaners can also maintain their own hygiene measures with an "antiviral maintenance pack" of Filta's all-purpose sanitiser.
For the third step, FiltaShield demonstrated thermal cameras at the school, with a high-temperature accuracy of ± 0.5 ºc. These thermal cameras detect elevated skin surface temperatures which may indicate the presence of a fever, one of the symptoms of coronavirus infection. The cameras take one second to detect the elevated temperature, and can scan 30 people per second.
The technology uses artificial intelligence to identify high temperatures to reduce false alarms, and also means that there is no-contact in the scanning process. In this way, students, teachers, and other personnel entering school environments can be monitored for potential COVID-19 infections.
Jason Sayers, CEO of Filta Group, parent company of FiltaShield, said: "When this pandemic broke out, it was quickly clear that there was an urgent need for sanitisation and monitoring services to ensure the safety of the local community to return to some semblance of normality.
"Our goal is to make sure public environments are as safe as possible for people as lockdown measures begin to ease. FiltaShield's services mean that surfaces are protected for up to 30 days at a time, and presence of the virus can be monitored through quick, easy, and contactless temperature testing.
"Never is public health safety more important than when it comes to our kids. We are really happy to have helped the St Alphege CE Infant and Junior schools get ready to open their doors to pupils and teachers again, and to do our part in keeping them safe and controlling the virus."
Robert Morrissey, Headteacher of St Alphege CE Infant and Junior school, said: "We want to do whatever we can to reduce risk of transmission. We have acted in accordance with government guidelines and have the required measures in place. The services provided by Filta add an extra level of protection and bring down risk still further. We are using their FiltaShield service and are also evaluating their Fever monitoring device ThermoGuard. I have found Filta to be very professional and informative."