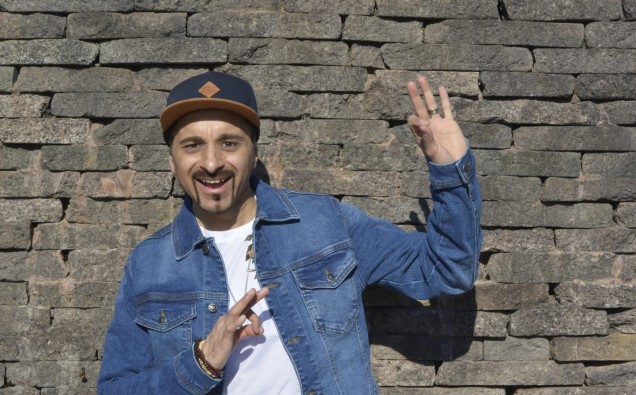 British Asian Children's & Family Entertainer releases debut album! After entertaining diverse audiences with his Bhangra, Bollywood, Theatrical creative arts shows, Performing Artist Sohan Kailey from Solihull, West Midlands makes his mark in the music industry with the release of his debut album titled 'LET'S NAACH (LET'S DANCE) on the Coco Music label. But wait…. Who is it for… CHILDREN, EARLY YEARS FOUNDATION STAGE, PRIMARY SCHOOL CHILDREN, PRE-TEENS and their grown-ups too! This is very much a children's album… something our younger listeners and audiences can enjoy! A first of it's kind!!
"Let's go to the beach and move your feet, let's party all day, like it's a holiday… Let's Naach".
Wolverhampton born and bred entertainer Sohan Kailey adds, "There's nothing like this in the market for young children. I wanted to create something fresh, new and exciting. Afterall whenever I am booked to perform at birthday parties and festivals, parents always request Bhangra songs for children but nothing ever suitable. I decided to create an album that children and parents can enjoy listening to and dancing to together. Let's Naach is a collection of a variety of songs which I carefully selected to put together for this exciting project. From going into the studio with having just one track to work with and the end of it walking away with 7 tracks plus story interludes made it all the more special. You have to listen to the entire album to enjoy the story.
Link to the album teaser on youtube:
Musical styles from Bhangra, Bollywood, Reggaeton, Latin, Samba, Techno, Jazz to Reggae!
There are a range of songs on there from 'Bhangra Rave'…has the popular Bhangra dance beat with a Reggae edge to it. describes the moves of the vibrant, exciting farming dance from the Punjab region of India. 'Dinosaur Rock Bhangrasaurus' is about the desi dinosaur family wedding! 'Let's Naach' the title track is on a Latin Reggaeton vibe to it, all about family holidays. 'Bhangra Pirates', A heavy Bhangra rhythm. A song about a group of pirates setting sail across the curry-bean seas! 'Shake It Like', is more on a Bollywood tip and again something which families will relate too! 'In The Jungle', has a South American Samba beat to it and is a carnival celebration song. 'Hope, Love, Peace', is an 80s influenced techno track and as the title suggests…. Spreading peace and happiness and positivity throughout the world and embracing everyone all creation!
The songs have been written by Sohan and his partner Aruna Kailey who is also a fulltime dance artist and features on the album too. The music production is by Wolverhampton based music producer PKCTheFirst at Pure Genius Music Studios. Songs performed in 4 languages, English, Punjabi, Hindi and Spanish.
The album has that feel good factor, to WOW audiences and bring a smile on children's and young people's faces and of course adults, from all cultures and backgrounds. The album reflects the entertaining performances and shows that Sohan produces and entertains at festivals on stages throughout the country.
Links to the music video for Bhangra Rave and album:
https://www.youtube.com/playlist?list=PL7YucJfEZn4B8PwjkbYh6EArYV6Whdiy6
Sohan performs in his own highly entertaining and interactive family shows:
Bhangra Tots
Pirates of the curry-bean Adventure
Epic Dinosaur Adventure
Under the Sea Adventure
Rumble in the Jungle
Incredible Indian Adventure
About Sohan Kailey:
Sohan has performed alongside the stars of childrens entertainment television including CBeebies, CBBC, CITV, Milk Shake TV, High 5 at major family festivals and events in the UK.
He has provided numerous interactive family dance shows at The Birmingham Hippodrome, Birmingham Rep Theatre, Newhampton Arts Centre Wolverhampton, BBC Mailbox Birmingham, a variety of family festivals throughout the UK, television shows with Monty Don (Gardening programme), BBC Midlands Today News, ITV Central, a host of Asian TV channels amongst others.
Sohan has been working very closely with various Children's and Family Library Services providing his fun and entertaining dance and story entertaining shows across Birmingham, Worcestershire, Herefordshire, Warwickshire, Staffordshire.
Let's bring story books to life through music, dance and creative movements! "I have been working across Childrens Library and School services for over 15 years."
Sohan's dance journey began at the age of 5. He started performing as part of West Park Primary School dance team and Valley Park Secondary School dance teams! He then went on to dance with many companies, including Aashiyana Dance
Company, Wolverhampton based Hasda Punjab Dancers and Birmingham's Nachda Sansaar Bhangra Dancers. Along his dance journey, he met and married his dance partner Aruna. He is now a proud dancing daddy of two beautiful children.
At Secondary School Sohan turned down a place in the school football team and opted to join the Bhangra dance team because he loved dancing! Sohan has toured around the world from New York, Chicago, Vancouver, Italy, France, Dubai, Austria, Belgium to the Canary Islands.
Sohan loves nothing more than to share his passion for the arts across the wider community. His current work includes visiting childrens centres, schools, all key stage groups, community settings, working in elderly day care amongst other establishments. His Bhangra Tots brand engages the youngest of Children to get them learning about the diverse world around them, about fruit, vegetables, farming, dancing, getting active and learning through play. Sohan visits older people who have dementia and alzheimers. This is delivered through his Bhangra Active armchair and seated dancing, a great way for health and wellbeing.
"Music and dance helps to bring communities together and unite people of all cultures. I use dance as a way to help people to lead healthier and happier lifestyles."
"At secondary school I turned down a place in the school football team to join the Bhangra dance team!"
In his teens he would attend Jazz Dance, Street dance, Contemporary dance classes at the Dance Xchange in Birmingham.
Sohan's musical and dance influences include Michael Jackson, Prince, Gene Kelly and is a big fan of a variety of music ranging from Reggae, Pop, Rock, Dance to Jazz! He is a huge fan of Broadway movies, musicals as well as Indian Cinema (Bollywood).
Let's Naach is OUT NOW on Coco Music available across all major online music download stores, iTunes, Apple Music, Google Play Music, Amazon Music, Youtube Music, Spotify amongst others.