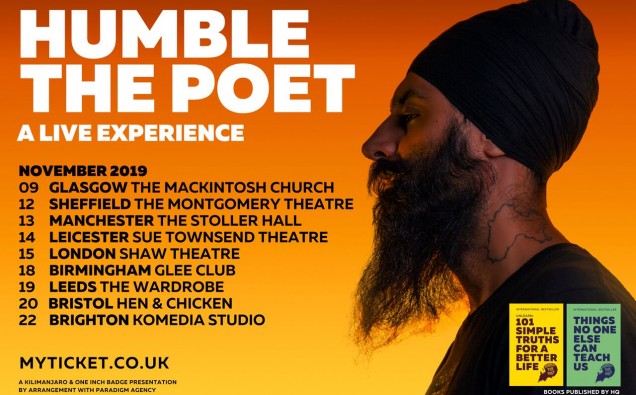 MC / SPOKEN WORD ARTIST SET TO APPEAR AT NINE CITIES ACROSS the UK THIS NOVEMBER 
KANWER SINGH AKA HUMBLE THE POET IS A TORONTO-BRED MC/SPOKEN WORD ARTIST WITH AN AURA THAT EMBODIES THE DIVERSITY AND RESILIENCY OF ONE OF THE WORLD'S MOST UNIQUE CITIES. 
Humble has announced a special run of UK dates this November that will see him visit Glasgow, Sheffield, Manchester, Leicester, London, Birmingham, Leeds, Bristol and Brighton. Tickets go on sale on Friday 4 October at 10am via myticket.co.uk. 
With tattoos, beard, head wrap and a silly smile, Humble commands attention. He stimulates audiences with dynamic live sets, through ideas that challenge conventional wisdom and go against the grain.  Humble's distinctive style and points of view have also been featured on popular television program CBC's Canada Reads, and took home top prize. He was also featured in Apple's first Canadian ad spot for their #ShotOnIphone campaign. 
Humble's latest EP entitled 'Righteous/Ratchet' features the first single H.A.I.R, a celebration of women of all shapes, sizes, hair styles and walks of life. His self-directed video for H.A.I.R has amassed more than 2 million views since its online release and features YouTube sensation and long-time collaborator, Lilly Singh. 
 Humble's first UK released books "Unlearn: 101 Simple Truths For A Better Life" and "Things No One Else Can Teach Us" are due for release in the UK on 17th October. Copies will be available to buy at each of the venues on the tour, with fans having the opportunity to have Humble sign the books at the end of each show. 
Commenting on the UK tour Humble said "It's been 5 years since I've toured the UK, and we have a whole lot to catch up on. I'm excited to see everyone, and share this unique performance experience with my UK family!"