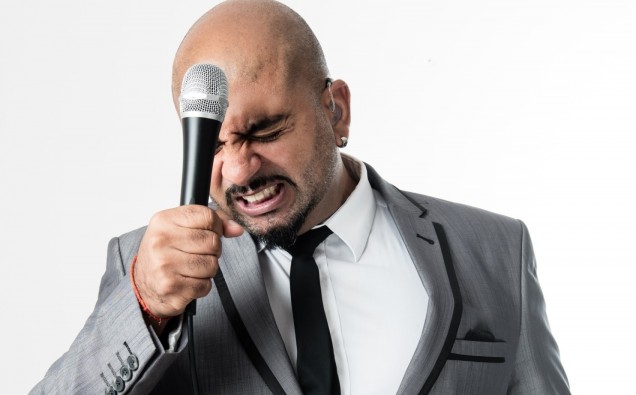 A new exhibition opens in Birmingham this week, exploring the creative way artists take inspiration from and use different languages
Informed by cutting-edge research at Birmingham City University and the University of Oxford, 'Slanguages' explores the work of visual artist and poet Tanny Tizzle and Rinkoo Barpaga, a Deaf comedian and film maker who has created his own urban sign language. Also featured are grime musician and rapper RTKAL and Nigeria's first Grammy Award winner, percussionist Lekan Babalola.
All four Birmingham-based performers use 'insider' and community languages – or 'slanguages' – in their musical and artistic work, and the new exhibition at Birmingham City University's Parkside Gallery displays aspects of their archives and ephemera that highlights their cultural significance, as they constantly push the boundaries of British urban culture.
The exhibition has been co-curated by Punch Records – an award-winning music development agency also based in Birmingham – and Birmingham City University's Professor Rajinder Dudrah. Professor Dudrah leads the research project Languages in the Creative Economy, part of a major national study into the interaction between languages in the performing arts and the types of creativity this generates.
The project is wide-ranging and includes exhibitions, performances and collaborations with artists, creative professionals and partners such as Birmingham Museum and Art Gallery, the Birmingham Repertory Theatre (The REP), Birmingham-based Beatfreaks and Sputnik Theatre Company in London.
Rajinder Dudrah, Professor of Cultural Studies and Creative Industries at Birmingham City University – who is also an Elected Visiting Scholar at Wolfson College, University of Oxford – said:
"The exhibition covers a wide range of artistic genres, including rap, grime and spoken word, West African jazz and funk, visual arts and urban sign languages.
"We are pleased to have been working with a very talented group of artists across a range of different languages and genres. The exhibition also showcases our four artists as representing the exciting and diverse work that is being produced in the creative economies in Birmingham and beyond."
Professor Dudrah's research strand forms part of Creative Multilingualism, a UK-wide £4 million four-year research programme investigating the interconnection between linguistic diversity and creativity, and is funded by the Arts & Humanities Research Council's (AHRC).
The research is being conducted in the context of an unprecedented crisis in language learning in UK schools, which is in turn undermining the health of Modern Languages departments in universities. The crisis has many causes, but the bigger picture is globalisation and the gradual rise of English.
The programme is designed to develop a new model for Modern Languages in the UK that is predicated on the intrinsic connection between multilingualism and creativity. This has the potential for giving learners confidence in their innate ability as linguists, and it makes language learning lastingly rewarding. It also holds the key to establishing a common identity for the subject of Modern Languages across educational sectors.
The launch of the second Slanguages touring exhibition will take place on Thursday 8 November from 5pm at Parkside Gallery. Visitors to the launch will be able to find out more about the overall project and the Creative Economy strand, as well as enjoy performances from artists involved in the project.
'Slanguages' will run until 21 December 2018, before travelling to two other national exhibition venues. Admission is free.
Find out more about Creative Multilingualism via the research programme's website, Twitter feed or Facebook page.