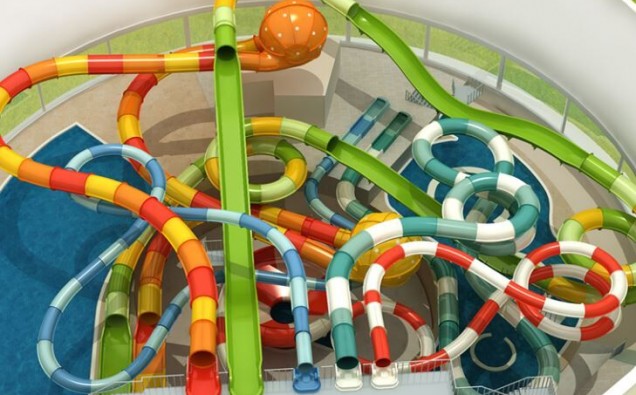 The Wave Water Park recently opened its doors in Coventry within the West Midlands. The multi-million pound complex is home to the UK's biggest current pool, six large slides and other recreational features. 
The facility also includes a full furbished gym and fitness centre, as well as a Spa for visitors to relax and undergo therapeutic treatments. There is space for visitors eat and drink at a tranquil beach café as well as an indoor river, all situated within the heart of the city centre.  
The high-octane slides that the park features include tunnels and twisters inclusive of ten-metre plus drops. They can either be ridden solo or in pairs with a rubber ring. The rides are named; the Crestar, Cascade, Rapids, Riptide, Torrent and Cyclone. The rides are as long as around 80 metres and can reach speeds of up to 10mph.  
Visitors to the park are allowed a certain amount of time enjoying the facilities within for a fixed price. They can receive discounts via a GO CV card and special offers are available during the holidays and half-term.  
Kirsty, 24 and Adam, 31, from Solihull said: "It's great for families as there are lots of different slides that suit different ages." 
Ryan, who is 24 and a student in Nottingham, said: "It was really good had quite a few different rides. 
"I think the pricing was reasonable and I would recommend it to other people." 
Many have praised the park for increasing tourism around the local area and within the West Midlands County, as a similar Park does not exist in Birmingham or its neighbouring towns. It is hoped that the facility will also encourage people to use the gym and participate in swimming classes, benefitting their overall health.