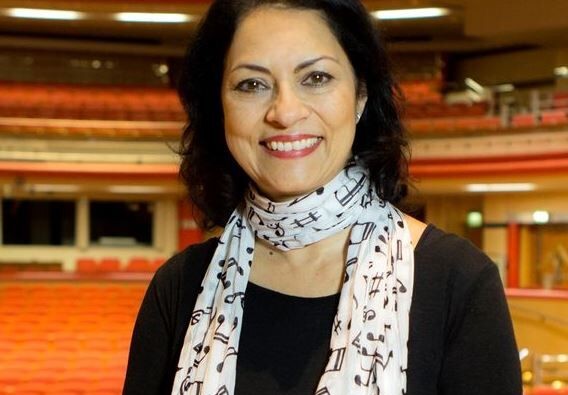 Anita Bhalla OBE, the chair of Town Hall Symphony Hall, has been named as 'Brummie of the Year' at the 5th Birmingham Awards. 
The sold-out awards event took place at the Birmingham Library, was hosted by Ed James from Heart FM, and featured live entertainment from the Aston Performing Arts Academy. It also aimed to raise money for the award show's charity partner, LoveBrum, which supports local projects and charities to make a difference in the city. Every year, it brings together the different industries and sectors in the city to honour people and businesses that have positively contributed to the future of Birmingham. 
Anita Bhalla was recognised for the well-known 'Brummie of the Year' award due to her many achievements that have benefitted Birmingham. These included establishing the BBC Asian Network in the West Midlands. Also mentioned was her work on the Social Inclusion Commission, and her commitment to public services, such as being a trustee of the Children's University. 
Anita's other positions include being a board member of the Greater Birmingham and Solihull LEP, Council Member at Warwick University, Chair of West Midlands Mayor Leadership Commission and Governor of the Royal Shakespeare Company. 
She used to be a trained teacher before becoming a Community Relations Officer and then a Community Worker. As a Community Worker in Handsworth, Birmingham, she also demonstrated her commitment to public services and welfare groups by setting up and running one of the first hostels for Asian women. 
She has also had a 26-year media career with the BBC, which included her being one of the first regionally-based bi-media correspondents. She also became Head and Editor of the BBC's Public Space Broadcasting. Interestingly, she was also High Sheriff of the West Midlands from 2010-2011. 
This is not Anita Bhalla's first award to celebrate her many achievements; She also won the Commission for Racial Equality's Race in the Media National Television News Award and the Windrush Broadcaster of the Year. She was awarded her OBE in 2009, for her services to Broadcasting and Communities. 
A fellow of the Royal Society of Arts, Anita has honorary degrees from Wolverhampton University, Birmingham City University and Warwick University. 
Other winners of the Awards, which were founded by Ifraz Ahmed and Anita Chumber, included Anna Assinder (Young Achiever of the Year), Hotel du Vin Birmingham (Bar or Pub of the Year), Unique IQ ltd (Business of the Year), and Jaki Graham won the Lifetime Achievement award. 
By Charlie Murray