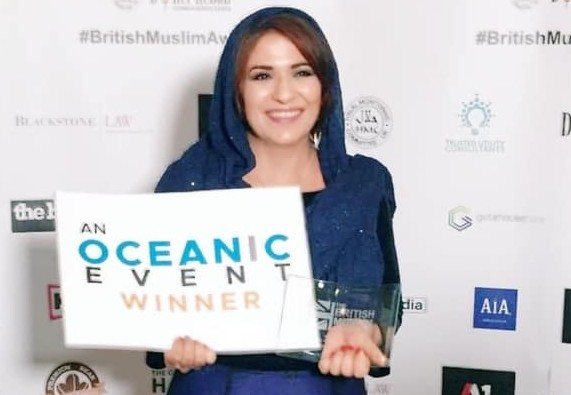 I am a solicitor by profession. I have worked in the legal industry for over 26 years and have run my own law firm for the past 21 years. Additionally, I am a public speaker, a Trustee for Birmingham and Solihull Women's Aid, a Mentor and a Lloyds Bank Women of the Future Ambassador as well. 
Life for me began in a deprived inner-city area of Bradford. I say against the odds because I came from a very traditional family in which up until that point girls married at the age of 16 and became housewives. However, I desperately wanted to carry on in school, and the reason I was able to, was because of my late mother. She always encouraged me to do well at school. However, my mother passed away very suddenly when I was just months away from my A level exams. I was devastated, and I wanted to give up. But somehow, I managed to pass my exams, and I went on to university to do my law degree.  
Around four or five years ago, I took the step of becoming a writer, and my latest novel Razia will be published in July of this year. I decided to start writing because I noticed a lack of contemporary fiction depicting the sort of people and issues I have come across through my career, particularly relating to British South Asian and Muslim women. 
Throughout my life, I have come across women who have had to deal with complex family, religious and cultural problems, often because of so-called family 'honour', as explored in my novel Stained. And in my soon to be published novel Razia, I tackle the issue of modern day slaves. People who are victims of modern slavery and human trafficking are absent from fiction, but they exist all around us.  
My novel Stained was published in 2016. Stained is the story of an 18-year-old British Muslim woman who is raped. The perpetrator then uses the concept of family honour to ensure that his victim does not speak out against him. The book then follows the trials and tribulations of the young woman, as she tries to prevent the family honour from being tarnished. In the end, it has a very empowering message.  
Stained was rejected by every literary agent and publisher I approached in the UK. I was told that my story was interesting, and my writing was good, however, they didn't think there was a market for it.  
Not being one to give up, I found a small publisher in the USA who published the book, and it is available worldwide on Amazon. It has received great critical acclaim; it has been dubbed the 'contemporary Tess of the d'Urbervilles' by Booklist in America. I received a True Honour Award in 2017 from IKRWO and I was Highly Commended as a Finalist in the Nat West Asian Women of Achievement Awards 2017 in the Arts & Culture category.  
More importantly, many women who have suffered sexual violence or honour abuse have contacted me to thank me for writing the novel, to say that they found the story empowering, and some have even gone on to report their rapes to the police as a direct result of reading Stained.  
My latest novel Razia will be published in July of this year. It is a dramatic story that focuses on the plight of a modern-day slave, and one British Muslim lawyer's fight for justice for the slave. 
Due to my previous experiences of trying to publish Stained, I decided to take an alternative route this time, and publish Razia with a crowdfunding publisher called Unbound. Crowdfunding the book was one of the hardest things I have ever done, but reaching the target gave me a real sense of achievement, as it meant that people believed in me, enough to back the book. The book also delves into bonded slavery, which is a generational type of slavery (and in the novel, this is set in Lahore, Pakistan); this is something that people generally don't know much about. I hope that my novel will go some way towards raising awareness about these matters.  
My work was recognised recently when I was awarded the Noor Inayat Khan Woman of the Year Award at the British Muslim Awards 2019. I believe it is vitally important that diverse voices are reflected in contemporary British fiction, as they raise the profile of certain issues. They also allow people to feel a sense of belonging. Moreover, people from outside the community can gain insight into a religion or culture, and in today's climate of fear and rising hate crime, that can only be a good thing. 
You can pre-order Razia at www.unbound.com/books/razia 
www.abdakhan.com 
www.facebook.com/abdakhanwriter 
https://www.instagram.com/abdakhanwriter/ 
@abdakhan5