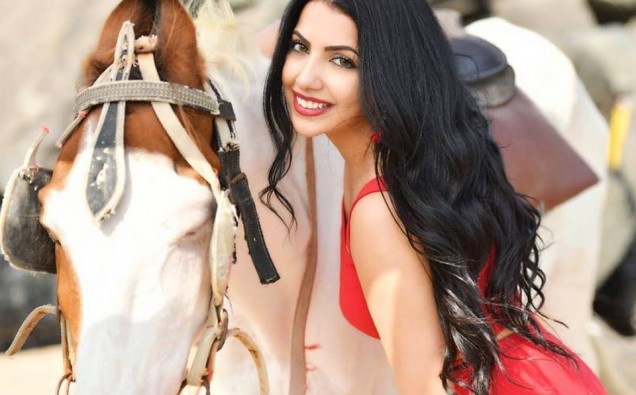 How do you feel after the release of your new track 'Karde Haan'? 
It has been absolutely amazing, the response so far has been incredible and the support from the industry has just been a blessing. I am very happy!
What makes you different from other Punjabi artists? 
Being a young female singing in Punjabi, I want to do something different with it and bring in the urban side of music into my tracks too. Not only that, but I've also learnt dancing so when I'm performing in Punjabi, I have the urban music and the dancing to match that too, so the whole package! 
What inspired you to pursue a career in the music industry? 
The main thing that inspires me is my family, my mum and dad especially. My dad actually writes my songs with me, so I think by having my family's support, there is nothing more inspiring than that. They're always there to push me with everything I do and what I love doing too.   
What are some of the biggest challenges you have faced in the music industry? 
There has been quite a lot of challenges; it hasn't been an easy journey at all. I think being independent and standing on my own two feet has been absolutely difficult. As of now, I am very blessed to be independent and releasing my song with the best PR team (UK Premier) with me, it's great. 
You have previous experience in acting, would you pursue this career further in the future? 
Yes of course, with my acting I had my Punjabi film out a few years back with Hardy Sandhu which has been great. I was also a child actor working on CBBC, so acting is always going to be there for sure. I also featured in an advert in India about four/five months back. Any amazing opportunities that come up, I will be open to.   
What advice would you give to anybody wanting to pursue a career in the music industry? 
Coming into this industry you have to be very strong with your mindset and even emotionally strong because you need to be open to positive and negative comments. You just need to be strong enough to stand on your own two feet and never give up on what you want. Do whatever it takes to get to where you want to be.  
What can your fans look forward to from you this year? 
I've got a lot more music coming out; I'm flying off to India to shoot my video for my next song which is produced by Mumzy Stanger and will be dropping towards the end of June, so that's something to look forward to. I also have a few collaborations lined up with other artists which I'm really excited about, so there's quite a lot happening this year. Keep supporting! 
Navkiran Bains