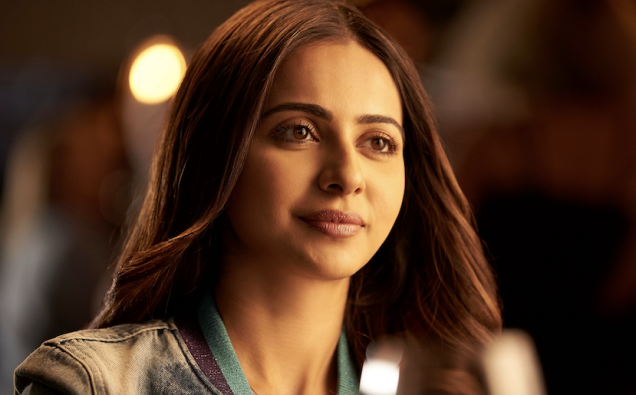 De De Pyaar De's story follows Ajay Devgan as he plays the character of 50-year-old Ashish, in a relationship with Rakul Preet Singh's character Ayesha, who is 26 years old.  
 As their relationship progresses, they meet Ashish's family which consists of his parents, his ex-wife and his two children. Tabu plays the ex-wife who is constantly trying to one up Ayesha while Ashish tries to keep everyone happy. 
 1. In De De Pyaar De the audience will see you romancing Ajay Devgan and the trailer has openly established that you are romancing an older actor. When you signed the film, did you anticipate the audience will accept this whole-heartedly?  
In today's time, age is merely a number and love is an emotion that has nothing to do with age. Everyone should be able to understand that and stop living in the past. There are so many successful real-life love stories that substantiate this too. De De Pyaar De's concept is very progressive and relevant in today's time, which is why audience across varied age groups have loved the trailer.  
 2. From the reactions for the trailer and song, the audiences have commented that you're looking very different in De De Pyaar De as opposed to your previous films. What went behind putting this together? 
After signing De De Pyaar De I had less than two months to shed 8 kilos to look the part of Ayesha on screen. So, I went on an extreme workout regime and took great care of my diet, so much so that I would weigh my food, not for the fear of eating, but for the fear of eating less. Other than that, I trained in belly dancing and bartending as well. I thoroughly enjoyed taking those classes for two weeks and I remember running back to back from one class to another to learn new things. I'm just glad that all the hard work has paid off and people have taken notice of the smaller details as well.   
 3. This is the first time you have been paired opposite Ajay Devgan. How was it sharing screen space with him? 
I had the most amazing time shooting with Ajay sir as he is so warm and welcoming and makes you feel comfortable when you're working with him. When I got the opportunity of working with him in De De Pyaar De, I wanted to give my best shot and put in 200 times more effort. Usually I'm not a kind of person who gets intimidated easily, but I did feel the pressure because I was working with a celebrated actor like Ajay Devgan.  
I remember we were shooting one day, and I had a two-page scene and I forgot one line. I was extremely embarrassed and apologised immediately, but he calmed me down and asked me not to apologise, else I'd never learn in life. Having a co-actor with a vibe like that made it a lot easier for me to play the part of Ayesha. 
 4. Which is your favourite song from De De Pyaar De?  
I'm big on romantic films and songs, so Der Se Hi Sahi is one of my favourite songs. We shot for it in London and there were scenes at the Oxford Street which is the main hub for shopping, so we ended up shopping from stores in between shots, it was just too tempting. The song has a lot of fun moments and it reflects my personality and me very well. 
5. You've shot for De De Pyaar De in London and Manali. Where did you enjoy the most? 
Manali is an extremely beautiful place. I remember going there, as a kid with my parents for vacations, but this was the first time I travelled to Manali for a film shooting. Every day after the shooting, the entire team would play badminton, walk, and workout and do bonfire and chill together. It is so peaceful there that you have to find your own ways to entertain yourself.  
London was a blast on the other hand. I've shot for several films there previously and it's the only place in this world where I don't feel homesick. I remember on the last day of De De Pyaar De, I asked Luv sir and Akiv if we could stay back for few more days. 
 6. You've shot several scenes for De De Pyaar De with Tabu. Can you talk about your experience of working with her?  
Tabu ma'am is drop dead gorgeous and a stellar performer. It didn't feel like I was working with her for the first time. She is like a breath of fresh air on set and has this amazing vibe and aura around her. I had a blast sharing the screen space with her and I really hope we get to do more work together in the future. 
 7. What are your expectations from De De Pyaar De? 
I can say one thing for sure, that I haven't played a role like this ever before and the makers have put in a lot of efforts for portraying this unseen side of me beautifully on the screen. With De De Pyaar De the audience will see me as a quintessential commercial Hindi film actor. People who haven't seen my body of work yet will get a chance to know my capabilities and me. Ayesha's role has everything from glamour to emotion, dance and drama and it'll be great to see people's reaction.  
I always give my 100% to the work I do, it doesn't matter if I'm working for a Hindi film or a regional one.