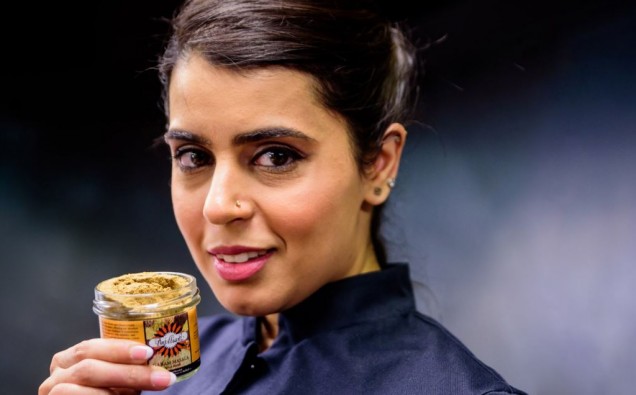 Celebrity Chef Dipna Anand, Co-Owner of the famous Brilliant Restaurant in Southall and author of the "Beyond Brilliant" cook-book also runs her very own cookery school and wears these various hats with aplomb. Dipna has an exclusive partnership with Restaurant Associates and Levy (part of the Compass group) for whom she is brand Chef for a Punjabi range of dishes she has created for the company. 
Dipna says, " Creativity in the kitchen requires you to use your intellect. How to make a dish look good, requires intellectual and creative focus and I am a very focused person. I am a hard working, dedicated and opinionated chef. I create my own style and I am proud of it."
Asian World NewsDesk in an exclusive interview with Dipna Anand: 
What does your restaurant Dip in Brilliant stand for in terms of cuisine it serves ?
Dip in Brilliant is more of a trendy, cool, café style eatery. I like to think dip in brilliant represents my character and signature style as a chef. The cuisine I serve in my restaurant and at venues I have collaborations with is what I would call traditional Punjabi. However recently , I have also started specializing in more contemporary style cuisine or giving some familiar dishes across cuisines an Indian spin! I like rustling up trendy and quirky dishes and whatever I serve almost always has something Punjabi about it.
what are some of the standout dishes in your menu ?
Tandoori Lamb Chops
Dip-Sea Bass
Alu Phal Chaat (vegan)
Chicken Tikka Roti Wrap
Dal Makhani
Did you always want to be a chef or did it happen by chance?
 From a young age I took a keen interest in cooking and was continually watching over mum in the kitchen and then when I went to the restaurant I was intrigued to watch my dad cooking in the kitchen and tell me the stories about Granddad and how he used to cook for the Maharajas back in Kenya in the 1950's. As I grew up I became even more interested and developed a deep passion for the industry and knew that is what I wanted to pursue as a career and the rest as they say is history! 
What type of a meal can diners expect when they come to eat at your restaurant ?
The atmosphere compliments the way the food is presented in stainless hammered steel starter plates and thalis for main course. The idea is to enjoy your meal in relaxed settings and surroundings and the décor correlates to this.The menu covers the proper Punjabi dishes as well as some more contemporary British dishes that I have given a desi twist too. It works really well and suits all really.
Who has been your biggest role model in this journey of being a woman of colour in Uk scene of food business?
My father has been my role model and mentor from a very young age. I have always looked up at him and even whilst growing up as a child and helping mum and dad in the restaurant business I would always look and dad and inspire to one day be like him. He is just such a positive, strong minded and confident individual. So dad is my true inspiration.
Another person who has inspired me (in the professional field this time) is Gordon Ramsay as I have been watching him on television all these years and I'm
Inspired to see him succeed so much in what he has done with his career trajectory.