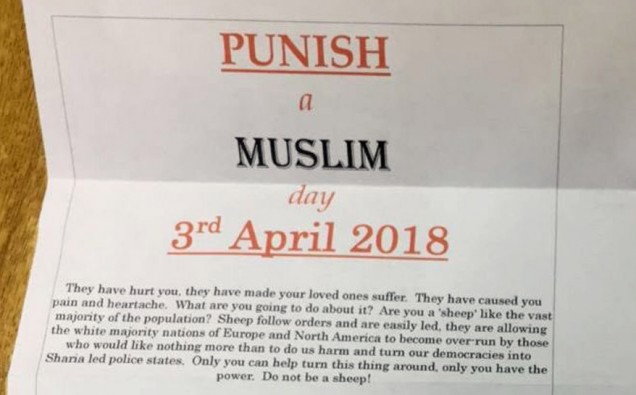 However, local police advised Muslims to 'unite' and 'carry on as normal.  Many Muslims encouraged each other via Twitter, telling each other to remain vigilant and stay safe. Some warned others to stay indoors and look after one other.
On April 3rd, 2018, communities in the UK got together to support Muslims during this horrific day. Nearly 100 people formed a human chain outside a local mosque in Newcastle, to fight against racism and Islamophobia.
British citizens stood together in solidarity with Muslims on the day which encourages violence against members of the religion. The citizens stated that they are 'spreading love not hate' on 'Punish a Muslim Day.'
Many Muslim women were warned to hide their hijabs and not to walk alone. Families were urged to lock their doors. However, Muslims and non-Muslims united together. Atleast 100 members of Tyne and Wear Citizens had joined forces outside of Newcastle Central Mosque.
The Tyne and Wear Citizens group posted on Twitter: 'Spreading love not hate, building bridges, not walls. We are proud to be part of the human chain of solidarity stretching around Newcastle Central Mosque.'
Many events also took place across the country, which encouraged Brits to say NO to Islamophobia. In Edinburgh, an anti-racism campaign group have held a protest against the 'Punish a Muslim' hate campaign. The campaign was called 'Stand Up To Racism
Edinburgh.'
The protest was aimed to counteract the disturbing social media and letter hate
campaign, which allocated points for crimes against British Muslims. A spokeswoman said: 'We are asking for supporters to post positive messages to Muslims on social media throughout the day.
During the event between 5.30pm and 6.30pm, Leith Labour councillor Gordon
Munro and Scottish Trades Union Congress President Satnam Ner, gave a speech on
anti-racism.
First Minister Nicola Sturgeon, condemned the hate campaign after Labour's Anas Sarwar said Scotland would stand united against it. In London, people united together and protested throughout London city centre, to stop spreading racial hate.
Chama Bouanik and her daughter Aisha, aged 14, attended a rally in London. They both wore hijabs, despite many warnings that it is not safe to walk around wearing a hijab. 100 demonstrators joined the protest, many also wearing hijabs.
"I'm here to show the racists I am not afraid," Mrs Bouanik told The National. "I stand by my faith, and I'm happy to see other people here who are supporting us from other faiths here."
As the demonstrations took place in London, a Somalia immigrant, Nur Mohammed,
handed out badges in north London that said, 'We Stand Together.' He said: "I wanted to voice my feeling of repugnance at anyone naming a day 'Punish a Muslim' day. I feel quite shocked about it."
Throughout various parts of the UK, Citizens sent out letters of encouragement, which says 'Love a Muslim Day.' The letters were sent to spread love and hate throughout the country and promised rewards to anyone who smiled or threw beautiful flowers at Muslims.
2500 points were given to anyone that brought a Muslim family a trip to Mecca. A counter Hashtag was created for #PunishAMuslimDay which was #LoveaMuslimDay,
as well as #WeStandTogether.
The hashtags are trending on Twitter, with more than 42,000 tweets, as many have urged Muslims to ignore the violent threats. Police are currently investigating on who
sent these horrific letters.
These letters boast about offering rewards to people if they carry out sick attacks on Muslims, including, burning down mosques, torturing Muslims and throwing acid in
people's faces.