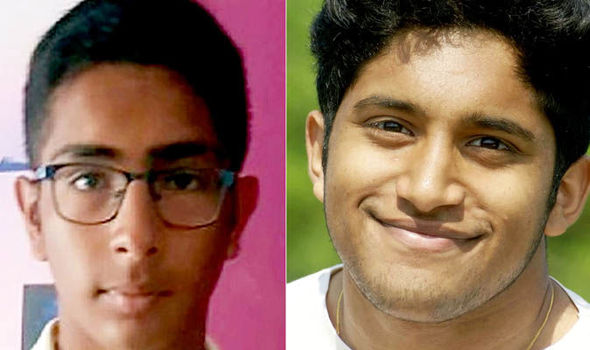 Jason Varghese aged 15 and Joel Aniyankunju ages 19 have drowned at the Old Danube beauty spot in Vienna after they took a boat ride on the picturesque lake.
The two teenage cousins from Bolton are of a close-knit Malayali community and were visiting relatives in Vienna.
The young men who are sons of two sisters, who work as nurses at Bolton Royal Hospital, were enjoying a boy's day out with relatives at the nature park.
Jason who was a strong and gifted athlete had lowered himself into the water to cool down from the 30C heat and began swimming laps around the boat.
However the 15-year-old got into difficulty when his feet became entangled in reeds underneath the water.
According to the family, Jason had panicked and shouted to his older cousin for help. His cousin Joel then bravely jumped into the water to save him.
However the two boys struggled to stay afloat in the freezing water, and after a couple of minutes, both boys had disappeared under the surface, just 10 feet from the safety of the boat.
The Austrian emergency services had launched a rescue operation with ten police divers forming a 'human underwater chain' in order to search the depths of the lake.
It was at dusk when Jason's body was raised from the water three hours later, followed by Joel's body soon after.
Jason's father, Shibu Varghese, had said that the two boys were like brothers and both had great respect for each other.
He said: "Jason really looked up to Joel. He was like a big brother to him."
"If Joel said something to him, Jason would listen. Joel was always full of wise words for his younger cousin, but it went both ways."
"If Jason said something, Joel would always listen to him. There was great respect between them."
"They never argued, and they always referred to each other as 'chachon', meaning brother. They really were brothers-in-arms."
"They were good boys, and everybody loved them."
Joel was in his second year as an apprentice for an IT firm and was studying at Bury College.
Jason, on the other hand, was a promising footballer, who loved Manchester United was due to start Year 11 at St James's C of E High School in September.
When the family returned home to Bolton, Jason's parents discovered that their son had passed his GCSE exams receiving top marks. He earned an A* in religious education and a B in IT.
Family friend Suresh Daniel said: "The family had been planning the holiday for a while and the boys were very excited about going to Austria and meeting their cousins for a big family reunion."
"We are a close-knit community, and we've never experienced this type of loss before."