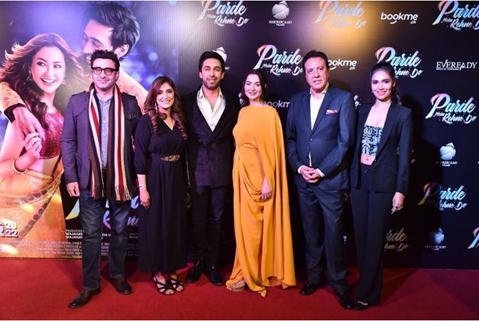 The much-anticipated movie, Parde Mein Rehne Do starring Hania Aamir and Ali Rehman Khan is gearing up for a grand release with an event recently held in Karachi. 
The plot for the film addresses a social issue faced by almost every newly married couple; the pressure to start their own family with total disregard of spending time together first. The film tackles the issue of infertility and how a Pakistani couple deals with it. Director, Wajahat Rauf has addressed this issue in his unique humour with this film and the perfect choice of actors brought the characters to life.
Speaking at the event, Ali Rehman Khan said, "It was such a great experience shooting with an amazing team. I'm so proud of this project because not only is it a labour of love, which we worked very hard to shoot during a pandemic, but more importantly it addresses the stigma attached to accepting certain social issues that can have an impact on society."
"The movie is very close to my heart. Because of how beautifully it has been written and how effortlessly Mohsin has talked about a hushed subject and translated it with such care while incorporating elements of humour. This film is warm, responsible, and funny," added Hania Aamir.
Director Wajahat Rauf added, "For me, it is special because it addresses an important social issue. I hope to make more films that give out a positive message along with entertaining people."
The event gave the opportunity to watch the movie trailer, listen to a live performance of some songs from the movie's soundtrack, and to participate in a Q&A session with the cast and crew. The film also includes Jawed Sheikh, Saifee Hasan and Noor ul Hassan.