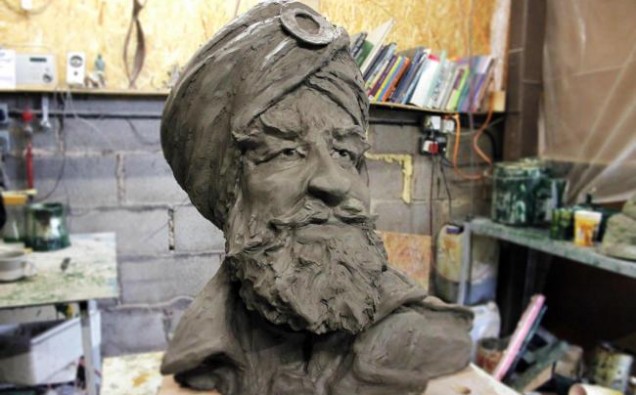 A bronze statue honouring the 'unmeasurable' contribution of Sikh soldiers, during the First World War, has been commissioned to mark the centenary of the end of the conflict. The statue is 10ft high and will be located in Smethwick, West Midlands. The monument shows a Sikh serviceman carrying a rifle, which pays tribute to the thousands of troops from India who died for Britain in 1914 and 1918.
Smethwick's Guru Nanak Gurdwara has appointed Black Country-based sculptor Luke Perry to create the Lions of the Great War statue.
As well as honouring Sikh soldiers who fought during the First World War, the statue will commemorate the sacrifice made by service personnel of all faiths from the Indian subcontinent.
Mr Perry said: "I am incredibly proud to be working on a sculpture that is, at its heart, a statement of gratitude for the actions of the people who gave their lives for our independence when they had not yet achieved their own.
"It will be a striking and permanent marker of the richness of our community and that those who have been under-celebrated are finally getting the recognition they deserve."
Luke Perry's previous works include an acclaimed statue in Stockport which honoured Royal Marine's James Conway, who was killed during a commando raid in 1942.
The statue will be situated between High Street and Tollhouse Way, where Sandwell Council plans to work with the gurdwara to create a paved public space with seating and lighting.
The monument will stand on a 6ft granite plinth with inscriptions naming the regiments in which South Asian soldiers served.
The inscriptions will explain the importance of the statue for Smethwick's long-established South Asian community.
The gurdwara will be covering the costs of designing and building the tribute.
Jatinder Singh Gurdwara president, said: "These men volunteered to serve and fought to defend the freedoms we enjoy today."
He added: "The memorial will ensure that this part is never forgotten. So I am delighted Guru Nanak Gurdwara Smethwick is commissioning the statue and will ensure its success."
Sandwell Council leader Steve Eling said: "I am very proud that Smethwick – a place where many people from the Indian subcontinent have made their home – is paying such a striking tribute to the very important role played by the South Asian service personnel during times of conflict."
"I hope this contributes to the growing recognition of the sacrifices that servicemen from Commonwealth countries have made for our country."