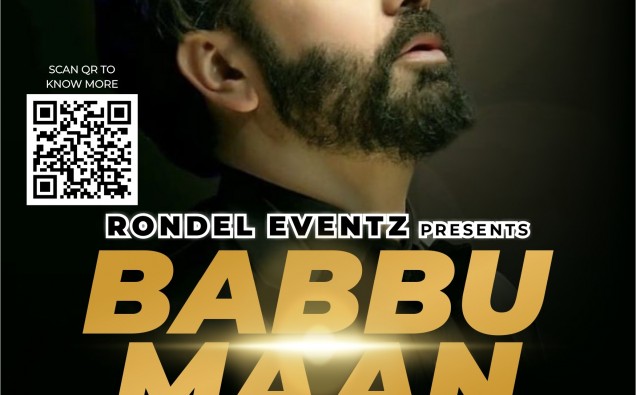 'Happy Pachi March' saw the anticipated concert of Babbu Maan and now he will be touring exclusively in the UK on the 9th & 11th September 2022 performing in the biggest venues; Utilita Arena, Birmingham and Ovo Arena, London. 
Internationally acclaimed music mega star Babbu Maan (singer, songwriter, director, and actor) announces his upcoming UK tour 2022 after his huge successful tour in America and sold-out venues, also being the first ever Asian artist to also sell out the PNE Vancouver venue.
Babbu Maan has attained legendary status amongst the Panjabi community across the globe with his music and lyrics touching the hearts of all Panjabi's, making him a leader within the music industry. His success is second to none, being one of the most talented and versatile performers in the Indian entertainment industry. 
His songs have received many accolades in Bollywood films and Maan himself has starred in 15 critically acclaimed and commercially successful Bollywood and Punjabi movies.
2018 saw Babbu Maan perform in the UK sell out tour.
"It has been a while since I have performed live in the UK, so I am incredibly excited for this exclusive tour. I am pleased to partner with Rondel Eventz and give my fans a truly special performance". Babbu Mann
''Rodel Eventz has over 20 years of collaborative expertise in branding, events and marketing. One of the goals of the company is to produce original and exclusive event, helping both the artist and music industry stay closely connected to their fan's''. Rondel Eventz
Babbu Mann is a true entertainer and an international star, who continues to amaze his audiences worldwide.
Babbu Maan UK TOUR 2022 dates:
Friday 9th September 2022, Birmingham, Utilita Arena
Sunday 11th September 2022, London, Ovo Arena