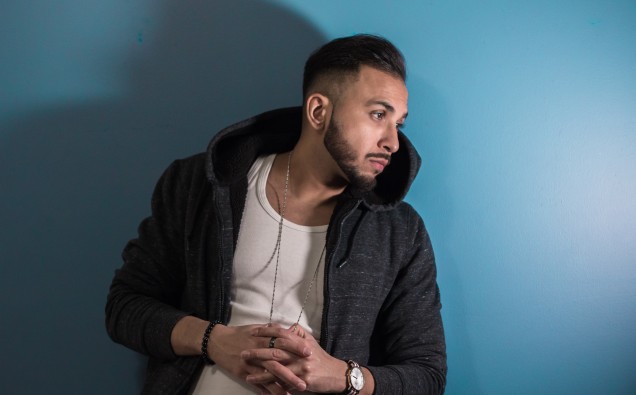 1. Can you tell us a bit about yourself?
I've been making music since middle school which has been about 15 years. It's a huge passion of mine and I've been lucky enough to be able to draw on my life experiences in different parts of the world to help create my unique sound. I come from a Pakistani family but I was born in Riyadh, Saudi Arabia and lived there for 6 years. During the Gulf War, my family and I moved to Canada for better education and opportunities, and Mississauga (Greater Toronto Area) has been my home ever since. I think spending parts of my life on opposite sides of the globe intrigued me and started me on the path of marrying East and West styles of music into my songs.
2. What inspired you to pursue a career in the music industry?
Before I even thought of it as a career, I made music because it was always a necessary energy for me. Ever since I was a child, I've used music for both expression, and coping. Because I approach it that way, all the music I've created is, in essence, a part of me that I've packaged within the song writing, rhythm, and beats. Channelling what I feel, what I have experienced, and the impact of those around me all inspire me to make music and bring out the best in me.
I pursued a career in music because it was inevitable for me. I want to do what I am passionate about and my biggest passion is music. It wasn't an easy decision by any means, though, because I didn't have any musicians in my family to look up to for guidance. Creating my relationship with music was a solo journey until I had the opportunity to work and collaborate with different artists. Now that my relationship with music is that much stronger, I'm working to feed off the creativity of those I work with in order to grow as an artist.
Ultimately, I want to add my own touch to the music industry, and I hope that anyone who listens to my music will feel how I felt when I was younger. Intrigued, inspired, and understood.
3. Is there any musician that you would like to collaborate with?
Oh, hell yeah…Jay-Z, Drake, Post Malone, The Weekend, Childish Gambino, Kanye West, AR Rahman, Kailash Kher, Sonu Nigam, Arijit Singh, Atif Aslam, Frank Ocean, John Legend, Miguel, Scott Storch, Eminem, Sam Smith, Snoop Dogg, Justin Timberlake, Rihanna, Kendrick Lamar, J. Cole, Ozuna, Maluma…
These are just a few of the names that come to mind so far. I'm all for learning from and feeding off the creative energy of other artists.
4. What is the biggest lesson you've learnt so far?
Remember that most people want to see you do well, but never better than them. This is why I keep a small circle of close family and friends. They keep me grounded, they critique my music, they inspire me, and they make sure I never lose my way.
5. Can you describe your music style?
Overall, I'd say it's a blend of both East and West; an Urban Fusion. However, my sound does tend to be catered entirely to the record that I'm working on. I like to incorporate a combination of different styles that would best express the emotion of the song I'm putting together. I love adapting to foreign sounds and using them within my own realm of emotions.
6. What does your name (NU SZN) mean?
Before NU SZN, I wasn't really going by any moniker. There was quite a buzz around my ends about me and my music but when I stopped making music, the buzz died down and people who knew me also quickly forgot. My hiatus from music was a result of a dark period in my life when my father passed away (Inna lillahi wa inna ilayhi raji'un).
The domino effect of personal issues and situations that followed afterwards caused me to be in a very tough place for a few years. I was uninspired, discouraged by the prosaic misguidance from those around me at that time, and depressed due to the lack of growth. From here, my girlfriend helped me get back into making music for the sake of art. I owe it to her for that support and pushing me to get back to doing what I love.
When I explained the renewed vision that I had for my music to my close friend, he coined it the new season. I decided to adopt that not only as my name but also as a reminder to me that newer and better things are always around. There is always a new season to look forward to and to overcome the circumstances that tore me down. NU SZN is the embodiment of my growth as an artist and person.
7. Where do you see yourself in 10 years time?
10 years is ways away and right now I'm just taking everything one step at a time. I would love to see myself more established in the music industry though, with a good deal of personal and professional growth. Aside from music, I do also have other ventures that I'm a part of that I'd like to see come to fruition.
I also want to see my close circle doing better as well. I'm a strong believer in sharing success and helping one another achieve goals. That kind of positivity is important to me.
8. What do you like doing in your spare time?
My days can be pretty busy but when I do get spare time, I like to enjoy life and make memories. I try to spend a lot of time with my family and friends. Having new experiences with those I love means the most to me so whether its planning trips, watching a movie, or just sitting in a backyard and catching up, I make sure to take time out for them.
Personally, I do love to stay active. I'm an avid soccer player, I go to the gym when I can, and I like being outdoors. If I can't be outdoors, I'll find a fun TV series I can watch to relax.
9. Are you planning any worldwide tours, anytime soon?
A worldwide tour is something that has been itching at me for a long time; however, for the time being, we are planning to start the NU TOUR within Canada to kick off the release of my album, Nu Classik. Hopefully, this tour will push a longer version worldwide. I'd love to be able to meet my fans and supporters all over the world that have been listening to my music. The UK would definitely be one of the places I'd want to tour.
10. What are you currently working on?
I just released my album, Nu Classik, which is available on all platforms. If you'd like, you can also listen to it directly on my website, NUSZN.com. This album was co-produced by my good friend and producer, Classik, and features some artists that I admire and respect. I had a great time putting this album together and I hope everyone listening to it gets the same vibe. We also shot a music video for one of the singles on the album. The single is titled Criminal and the video is available on YouTube. Usman (featured on the track Viento) and I are also planning a Canada tour for the album.
I like tackling some tougher issues in my music as well and was fortunate enough to work on a track highlighting a really great message with Toronto OG rapper, Turk. The track is titled Justice for Junior and highlights the issues around increased violence and the bystander effect that stemmed from the gang-related killing of 15 year-old Lesandro Guzman-Feliz (Junior) in Bronx, New York. 100% of the revenue and proceeds that we're making from the record will be donated to Lesandro's family. You can watch the music video for this track on Youtube as well.
As for the rest of the year, I have a few projects already completed and ready to release. I have a Hip-Hop/R&B EP coming out with Turk, an R&B Punjabi fusion record coming out this summer with XD Pro Music, a dope summer record with Usman, and I have already started work on the next project.
Stay tuned for a lot of NU music.