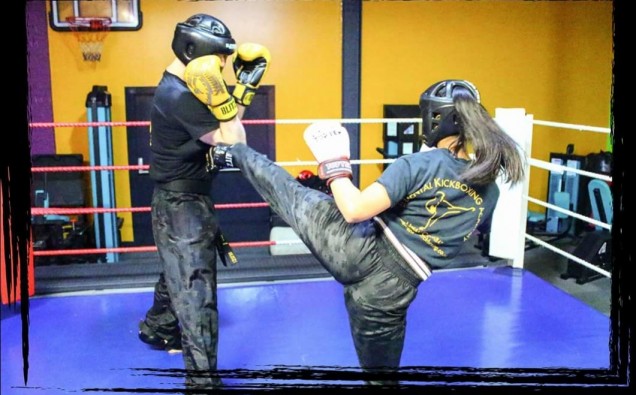 1. Can you tell us a bit about yourself?
I am currently 19 years old and working two jobs. I am working full time as an IT project lead for a bank, however, I am also qualified as a personal trainer and martial arts instructor. At the moment I am a black belt in kickboxing and I have competed in many national competitions. I have even taken on an ultra MMA bout in a cage, to raise money for cancer research. When I'm not working or training I spend my time with my friends and family. In particular, my mum who isn't just my mum but my best friend!
 2. Why did you decide to become a personal trainer?
I have always loved sports and fitness from a young age with PE being my favourite lesson at school. As I grew up and started my career in the IT and Banking sector at the age of 16, I never thought there would be enough in the fitness industry for me to make a career and income from. This was until I read a book called Feel the Fear and do it anyways by Susan Jeffers. The books addresses the fact that we make excuses and create a feeling of fear around different aspects of our lives that stop us from achieving and doing what we really want to. I thought to myself whilst reading the book, I really love sports and would love to turn my hobbies into a career so why not just go for it! So I did. I looked into a part-time personal training course at Leeds College and called them up the next day to enroll. Because it was a part-time course I made arrangements at the bank to work a compressed working week so I did my 35 hours from Monday to Thursday and had Friday off to attend college. It was the best decision I ever made, I now work part-time for Elemental Fitness running Saturday Morning Boot Camps and Personal Training sessions.
 3. How did your family react to your decision in becoming a personal trainer?
 My family were extremely supportive of my decision to become a personal trainer. They have encouraged me and pushed me to work hard and they also believed in me. I am truly thankful for their support.
 4. What is the biggest challenge you've faced so far in life?
I have had two huge challenges in the past two months, one being the Ultra MMA fight that I took part in. I had 8 weeks of training and ended up with a more experienced, heavier opponent. I still went into the cage and gave my all and came out of it as a stronger individual and even though I didn't win I learnt so much from it. Since the MMA fight, I received lots of messages from various people congratulating me and saying I am a massive inspiration for young females out there who would be hesitant towards sports and in particular combat sports. My second challenge was grading for my black belt. I had just observed the blessed month of Ramadan and so training levels had been fairly low for a month. My grading was the day after Eid so my bodies' sugar and salt levels were still all over the place. The grading went on for four hours and consisted of technique and combination work, a 100 set piece kata form (performance of 100 martial art moves), sparring and lots of cardio. I experienced my first anxiety attack during the grading which I overcame and was thankfully able to complete the grading, this was down to 4th Dan kickboxing instructor David Kenyon who helped me calm down.
5. What is your biggest inspiration?
My biggest inspiration has to be female athletes such as Nicola Adams and Jessica Ennis. They are both successful in their careers, which has encouraged me to work even harder. I hope one day I can be as successful as them. They are an inspiration to all females.
6. What do you like to do in your spare time?
  I don't leave myself much spare time with having two jobs. I tend to wind down by going for nice, long, naturous walks or going to the gym. I spend my time with my family and friends aswell. I am also a massive foodie! So I am always going out and trying new places to eat. To sum me up and my favourite things it would be, family, friends, fitness and food!
 7. Where do you see yourself in 10 years time?
In ten years time, I hope to still be working for the bank as a successful senior manager within the digital and transformation space. I also hope to have my own gym where I can teach self-defence classes, martial arts and personal training to all kinds of people but in particular women and children as I feel they can be the most vulnerable. I also would like to target Asian females as I don't feel there are enough gyms that cater for this audience. I think lots of Asians would love to get more involved with fitness but they lack confidence and the motivation which I can provide. I would also love to have a family of my own in 10 years.