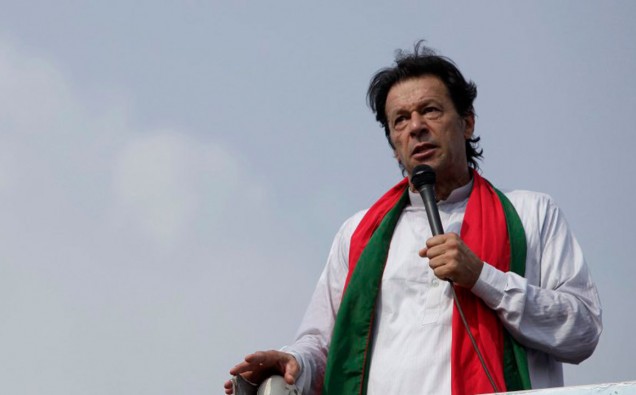 Imran Khan was born on November 25, 1952, Lahore, Pakistan. He is the former legendary Pakistani cricket player, philanthropist, politician, and now he is elected as prime minister of Pakistan. He led the Pakistani team to the Cricket World Cup victory in 1992 and then he entered politics as a critic of government corruption in Pakistan.
Early Life and Cricket Career
Khan was born into a wealthy Pashtun family in Lahore and was educated at elite schools in Pakistan such as Aitchison College in Lahore, then the Royal Grammar School Worcester in Worcester, England, and later at Keble College, Oxford. He started playing cricket at the very early age when he was only 13. While playing cricket for his college and then for Worcestershire, Imran Khan made his debut in 1971 for the Pakistan national cricket team at the age of 19, against England at Edgbaston, Birmingham. After graduating from Oxford, he made his home debut for Pakistan in 1975 and ended his career in 1992. There were numerous talented cricket players in his family, including two older cousins, Javed Burki and Majid Khan, who both played as captains of the Pakistan national team. Imran Khan played cricket in Pakistan and in England in his teenage years and did not stop playing while studying politics, philosophy, and economics at the University of Oxford in England. Imran Khan played his debut match for a national team of Pakistan in 1971, but he was not able to get a permanent place on the team till after his graduation from Oxford University in 1975.
In the early decades of 1980 Imran Khan renowned himself as an excellent bowler and all-rounder, and he was made as captain of the Pakistani team in 1982. In 1982, at the peak of his career, Imran Khan took over the captaincy of the Pakistan cricket team from Javed Miandad. As a captain, Imran Khan played forty-eight Test matches, out of which fourteen were won by Pakistan, eight lost and the rest of twenty-six were drawn. Imran Khan also played 139 one day matches, winning 77, losing 57 and ending one in a tie. Imran Khan's athletic talent and handsome personality made him a celebrity in Pakistan and United Kingdom, and his consistent advents at trendy London nightclubs provided fodder for the English tabloid press. In 1992 Imran Khan accomplished his best athletic success when he led the Pakistani team to its first Cricket World Cup title, defeating England in the final. Imran Khan retired from cricket in 1992 right after the World Cup, having secured a reputation as one of the best cricket players in history. In Test cricket, he made 3,807 runs and took 362 wickets, and is one of eight world cricketers to have achieved an 'All-rounder's Triple' in Test matches.
Imran Khan's Philanthropy
During the decades of 1990, Imran Khan worked as a Special Representative for Sports for UNICEF and endorsed health and immunisation programs in Pakistan, Bangladesh, Sri Lanka and Thailand. While Imran Khan was in London, he also worked with the Lord's Taverners, a cricket charity. Imran Khan entirely focused his efforts on the welfare of people.
After 1992 Imran Khan was considered as a philanthropist in the public eye. He felt a religious awakening, accepting Sufi mysticism and detaching his earlier playboy image. In one of his philanthropic efforts, he launched a fundraising campaign to set up a cancer hospital in memory of his mother for the Shaukat Khanum Memorial Cancer Hospital in 1994, a well-equipped specialised cancer hospital in Pakistan. The Shaukat Khanum Memorial Cancer hospital was named after Imran Khan's beloved mother, who died of cancer in 1985. Imran Khan raised $25 million to set up a cancer hospital in Lahore in 1994, and then afterwards in 2015 a second hospital in Peshawar. In 2010, he was inducted into the ICC Cricket Hall of Fame. Imran Khan also served as the chancellor of Bradford University between 2005 and 2014 and was the recipient of an honorary fellowship by the Royal College of Physicians in 2012.
On April 27, 2008, Imran Khan established a technical college in the Mianwali District (Pakistan) called Namal College. It was built by the Mianwali Development Trust and is an associate college of the University of Bradford in December 2005. Imran Khan also established Imran Khan Foundation for welfare work, which aims to help poor people all over Pakistan. It also helps flood victims in Pakistan. Buksh Foundation is a partner of Imran Khan Foundation to light up villages in Dera Ghazi Khan, Mianwali and Dera Ismail Khan under the project 'Lighting a Million Lives'. The campaign has the intention to establish numerous Solar Charging Stations in few villages and provide villagers with solar lanterns, which may be constantly charged at the solar charging stations
Entry into Politics
After getting retirement from the world of cricket, Imran Khan became a staunch critic of government mismanagement and corruption in Pakistan. He founded his own political party, Tehreek-e-Insaf, in 1996. In Pakistan's national elections, the newly formed party PTI won less than 1 % of the vote and failed to win any seat in the Pakistan National Assembly, but it was little better in the 2002 elections, winning a single seat that Imran Khan filled. Khan maintained that vote rigging was to blame for his party's low vote totals. In October 2007 Khan was among a group of politicians who resigned from the National Assembly, protesting Pres. Pervez Musharraf's candidacy in the upcoming presidential election. In November Imran Khan was imprisoned for a short while during a crackdown against critics of Musharraf, who had declared a state of emergency. Imran Khan condemned the state of emergency, that ended in the midst of December, and boycotted the 2008 national elections to protest the government of Musharraf.
2013 elections campaign
On April 21, 2013, Imran Khan started final campaign to improve public relations for the 2013 elections from Lahore where he addressed thousands of supporters at the Mall. Imran Khan also claimed that he would pull Pakistan out of the terrorism and spread peace to the Pashtun tribal belt. He addressed a few public meetings in many cities of Khyber Pakhtunkhwa and other parts of the country where he claimed that PTI will launch a uniform education system in which the rich and poor children may have equal opportunities. Imran Khan terminated his south Punjab campaign by addressing gatherings in various Seraiki belt cities.
Imran Khan terminated the campaign by addressing a crowd of supporters in Islamabad through a video link while lying on a bed at a hospital in Lahore. The last survey before the elections by The Herald showed 24.98 % of voters nationally calculated to vote for his party, just a little behind former Prime Minister Nawaz Sharif's PML-N. On May 7, just four days before the elections, Imran Khan was taken to Shaukat Khanum hospital in Lahore when he fell from a forklift at the edge of a stage and fell headfirst to the ground. The Elections were held on May 11, 2013, throughout Pakistan. The elections resulted in a clear majority of Pakistan Muslim League (N). Imran Khan's party PTI emerged as the 2nd largest party by popular vote nationally including in Karachi. Imran Khan's PTI won 30 directly elected parliamentary seats and became the 3rd largest party in National Assembly behind Pakistan People's Party, which was 2nd.
PTI Performance in 2018 general election
Imran Khan, the chairman of PTI, contested the general election from NA-35, NA-53, NA-95, NA-131, and NA-243. According to official results, Imran Khan led the poll, although the opposition accused large-scale vote rigging and administrative negligence. On 28th July, the Election Commission of Pakistan (ECP) declared that the Imran Khan's PTI had won 115 of the 270 seats contested. Imran Khan became the first person who contested and won in all five constituencies in the general elections, surpassing Zulfikar Ali Bhutto who contested in four but won in three constituencies in 1970.
A number of opposition parties Nawaz Sharif and his PML-N party, in particular, claimed that a conspiracy between the judiciary and military had influenced the election in favour of Imran Khan and PTI. The Election Commission, nevertheless, rejected accusations of rigging and Sharif and his PML-N later accepted Imran Khan's victory, despite lingering 'reservations' regarding the result. Two days after the 2018 general elections were held; the chief observer of the European Union Election Observation Mission to Pakistan Michael Gahler verified that the overall situation of the general election was fair.
Victory speech of Imran Khan
During Imran Khan's victory speech, he suggested the policy outlines for PTI government. Imran Khan told that his inspiration was to build Pakistan as a humanitarian state based on philosophies of the first Islamic state of Medina. He expressed that his future government would put poor and needy people of the country at first and all plans would be geared towards uplifting the standards of living of the lesser fortunate. He promised an investigation into rigging allegations. He told that he wanted united Pakistan and would refrain from victimising his political adversaries. Everybody will be equal under the law. He assured people a simple and less costly government devoid of pomp and show in which prime minister house will be converted into Research University, and governor houses would be used for public benefits.
On foreign policy, Imran Khan aimed to learn from China and wished to have good relations with Afghanistan, the United States, and India. On the Middle East, Imran Khan told that his government would strive to have a balanced relationship both with Saudi Arabia, and Iran.
PTI Revolutionary Steps
Pakistan Furniture Council (PFC) Chief Mian Kashif Ashfaq has appreciated Imran Khan's pledge of cut expenses, implementing reforms and austerity measures.
PTI government is going to take some major steps on all fronts and multi-pronged economic vision to increase the volume of export while forming a business-friendly environment for foreign investment.
He told that a good economic team, coordination with ministries, wise and quick decisions to deal efficiently with the forthcoming economic crisis could save Pakistan out of the current complex position.
Imran Khan's decision to increase export by giving all possible support to the business community is a very optimistic aspect, and the PTI government banned the import of luxurious items including furniture. Another challenge for Imran Khan is to reduce imports which are costing over $1.5 billion per month.
The PTI government would address the issues of the business community on war footing. Prime Minister Imran Khan was also told that the businessmen and industrialists regained their confidence in PTI government policies under Imran Khan's dynamic leadership.
The government will encourage the traders and industrialists to play their vital role for the promotion of businesses, industries, trade and investments in the country. Imran Khan was focused to provide every possible facility to the investors, industrialists, traders and businessmen.
PTI leader Naeem-ul-Haq, addressing journalists in Bani Gala, told that Pakistan economy was undergoing a severe economic crisis, and Asad Umar who was set to be the next finance minister had started making efforts to address the crisis by holding consultations in Karachi and Lahore and would receive international support.
He also told that the party had formed the next government at the Centre, Khyber Pakhtunkhwa and in Punjab.
He told that the people of Pakistan would prepare for a glorious era of development in which the resources would be used on the welfare of the people. He told that he wanted to give the glad tidings to the people of Pakistan to get ready for a glorious era of development in which resources would be used for their welfare.
He then told that party would fulfill its promise to provide one crore jobs in the next five years, and they had received an overwhelming support from overseas Pakistanis who had expressed interest to invest and willingness to return and work for the benefit of the country.
He told that Imran Khan truly believed that the people of Pakistan had been deprived of their rights for the last seven decades and they would provide them with their due rights.