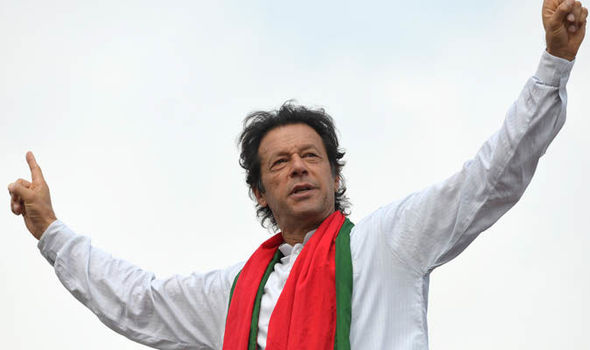 Cricketer turned politician Imran Khan has finally been accepted as Pakistan's next Prime Minister.  Almost all of Pakistan's parties, other than Khan's, have contested the results; Shehbaz Sharif, the leader of the Pakistan Muslim League-Nawaz, which won the last general election, tweeted about "manifest and massive irregularities and argued that Pakistan's democratisation has been "pushed back decades."
Imran Khan has been in the public eye for more than 20 years. Khan was born to a Pashtun family in Lahore, Punjab, in 1952. He started playing cricket at the age of 13 and made his cricket debut in cricket at the age of 18 during the 1971 series against England at Edgbaston, Birmingham. He served as the team captain for Pakistan throughout 1982-1992, when the team won the World Cup more than 25 years ago. In 1992 Khan retired from cricket as one of Pakistan's most successful players.
Imran Khan had formed PTI (Pakistan Tehreek-e-Insaf) in 1996. His party had won only one seat in 2000. Imran resigned from Parliament in 2002 in protest and boycotted the 2008 elections. During the 2013 general elections Khan received (61,300 votes) against the Pakistan Muslim League Pakistan Muslim League-N candidate Sardar Ayaz Sadiq who gained (71,420 votes).
Khan's colourful history as a celebrity cricket captain and socialite gave him a strong start as an individual critic of Pakistan's political and military establishment, but it has taken him 22 years to make this breakthrough after trailing in previous elections. Now at the age of 66, he has little direct political experience of governing, although he has strength and legitimacy from his perseverance and perceived outsider status.
During the 2018 general election, Khan's Pakistan Tehreek-e-Insaf (PTI) party won the most seats in the countries general elections; however they failed to win an outright majority in the National Assembly, with 115 of the 270 available seats. The voting was marred by violence, including a deadly suicide attack, and allegations by other parties of election rigging.
The ruling Pakistan Muslim League (PML) came in second with 64 seats, and the Pakistan People's Party (PPP) won 43. Opposition parties said they rejected the results and would call for new elections.
Khan, who campaigned on a populist anti-graft platform has now declared victory and has vowed to transform the nation and clean up Pakistan's public institutions. Imran Khan said that the corruption was "eating away this country like a cancer."
He also pledged to put an end to what he calls Sharif and Bhutto families corruption and misrule. Imran Khan's win has also been widely trumpeted as historic for breaking the decades-long two-party dominance of Pakistani politics
In a nation obsessed with cricket, Khan cleverly leveraged his star status to transition into a career in politics, founding the PTI In 1996, which is known as the Justice Party. His popularity surged as he shared his vision for a "new Pakistan" just as the countries middle class had grown disenchanted with an economy on the brink of crisis.  The countries currency has spiralled, debts remain high, and inflation is persistent.
He has also been widely seen as the preferred candidate of the countries powerful military which has directly ruled Pakistan for almost half its independent existence since 1947 and has maintained a positive influence in politics.
Khan was a fierce critic of the US war on terror, especially towards the countries use of drone strikes in Pakistan which had targeted terrorist networks but also killed Pakistani civilians.
However as Pakistan's military cooperates with the US, it is uncertain whether Khan will continue to criticise a Donald Trump-led Washington.
The question now is how much freedom a Khan-led government will have under the military's close gaze.