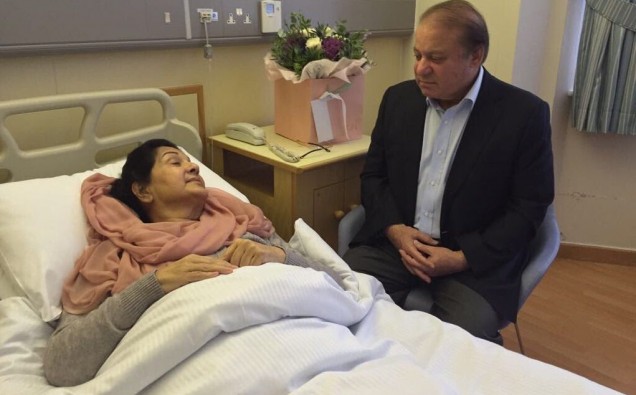 Deposed Prime Minister Nawaz Sharif has ruled out returning to Pakistan to face corruption charges, while his wife Kulsoom Nawaz is on a ventilator in hospital.
The 68-year-old woman was admitted to hospital in London, after doctors found she was suffering from throat cancer. Since last year, Kulsoom has been undergoing treatment. She was shifted to the hospitals ICU recently after she suffered a cardiac arrest and has been on life support since.
"Can I think of going back to Pakistan under such circumstances when Kulsoom is on a ventilator? Do you think I should return to Pakistan leaving behind my wife in such a condition?" the three-time prime minister asked reporters outside a hospital in London.
Sharif and his daughter Maryam left for London after they were granted a brief exemption from the ongoing corruption trial against them.
The Sharif family will be facing trial at an accountability court in Islamabad on corruption references which will be filed by the National Accountability Bureau (NAB) following the Supreme Court's July 28, 2017 verdict in the Panama Papers scandal, disqualifying Sharif and directing the anti-graft watchdog to launch an inquiry.
Expressing his regret over not being able to see his wife while she was conscious, Nawaz said he planned on a four-day visit; however, he was unsure about returning to Pakistan due to Kulsoom's health.  Nawaz said that the matter will be further deliberated upon after consultations with the doctors.
The supremo of the ruling Pakistan Muslim League-Nawaz (PML-N), asserted his intent to return ahead of the July 25 general election.
Sharif declined to speak on political matters and requested for prayers for his wife. "I will do politics once I return to Pakistan."