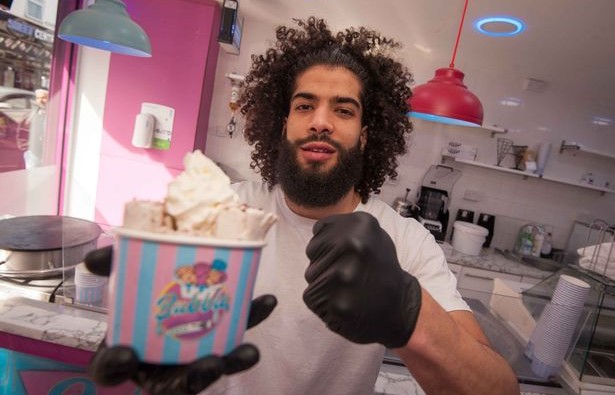 The world of professional boxing has produced its fair share of sugary superstars, including Sugar Ray Robinson, Sugar Shane Mosley and Sugar Ray Leonard. Now, meet Mussab Abubaker, the Birmingham Boxer, who runs his own sweet shop.
The 25-year-old boxer makes the confectionary, puddings and ice-cream sundaes himself.
Working at Bubble Rolls, which is located in Birmingham's Ladypool Road, the shop has become a successful business for the young boxer. However working in a sweet shop can be tempting, especially for an athlete who has to stick to a strict diet.
"That's the worst part," confesses the unbeaten light-middleweight.
"Customers will look at the ice creams and ask which one I prefer. I have to tell them, 'To be honest, I haven't tried any of them'.
"I'm very disciplined.
"In fact, sometimes, when you're surrounded by sweets all day, it actually makes you want to eat them even less,"
Mussab. From Small Heath, opened the sweet shop, with his two brothers in 2017 and it has proved to be successful. The business has helped the boxer to become a sweet sensation at the box office, too. Customers snap up tickets for the confectioner's contests. There is now a veritable Abubaker Army.
"It's about fitting the shop around training," says the pastry-making puncher.
"I've a big following. A lot of people in my community are less active in the sense of sport.
"I'm trying to change that."
However, Mussab wants his fans to still eat the sticky delicacies he conjured up at Bubble Rolls, and he even tries to persuade them to run off the calories afterwards.
Mussab recently peeled off his second win at a major Genting Arena show.
"I didn't really have any amateur experience," says Mussab. "I had a couple of white collar fights and decided to dive in the deep end.
"I've got the right people around me and will go as far as I can.
"To be honest, ever since I've started boxing I've had no issues about keeping in shape. I'm ready and raring to go.
"I have some of my customers coming to support me, and I don't intend to let them down."
And if his boxing career fails, then Mussab still has his confectionary business to fall back on.