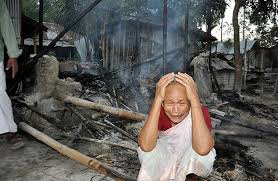 A number of fuming Muslim had burned down a Hindu village in Bangladesh after a rumour had spread stating that a local person had insulted the prophet, Mohammed.
20,000 Muslims, attacked Hindu homes within the village of Thakurbari which is located in the region of Rangpur Sadar.
There were police everywhere, firing bullets and tear gas towards the crowd. This happened after it was reported that a local villager had posted an offensive comment on
the Prophet Mohammed. One person was killed, and five were seriously injured.
However, when the police had arrived, the village was already burned down, with at least 30 homes completely destroyed. There were at least six or seven villages, including, Paglapeer, Mominpur and Horialkuthi. The villagers had clashed with police who fired rubber bullets to control the crowds.
There were at least six people that were injured by bullets and had been rushed to Rangpur Medical College Hospital. One of the youths, known as Hamidul Islam, died due to his injuries.
The attack blocked the Rangpur-Dinajpur highway for four hours. Although the local magistrates are currently investigating the occurrence and the families that were affected by the riots, are being assisted by local authorities.