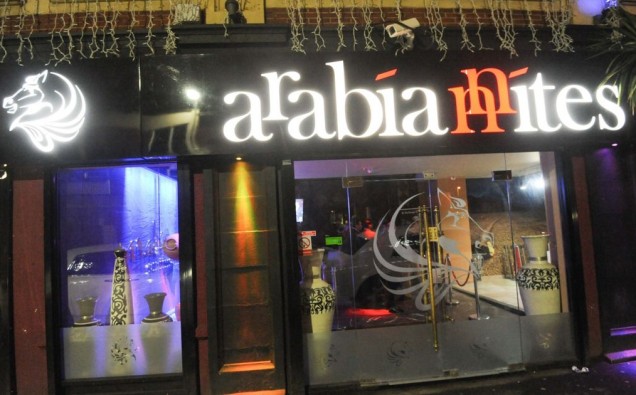 An investigation has been launched after a gunman opened fire on a violence-hit shisha lounge. A number of shots were thought to have been fired from a passing car through the window of Arabia Nites.
Astonishingly, there were no reports of injuries following the drive-by shooting.  Detectives are investigating the incident – the latest to hit the troubled nightspot – and are 'fast-tracking' CCTV enquiries. A West Midlands Police spokeswoman said: "Police were called to Arabian Nites Shisha Lounge on Bissell Street.
"Shots were believed to have been fired through a window from a passing vehicle. "No one was injured and officers are fast-tracking CCTV enquiries. "Anyone with information should call police on 101 quoting log 134 25/3."
It is not the first time the venue – which once played host to world boxing champ Floyd Mayweather – has been hit by extreme violence. Last week, we told how police were in
contact with the licensing authorities over concerns in the rise in incidents at the club.
The shocking scenes of violence were captured on mobile phones inside the Bissell Street venue – showing clubbers hurling tables and glasses at each other across the dancefloor. See the video of this incident at the top of the story.
Another clip shows more than ten men involved in a violent brawl while terrified females can be heard screaming. A mass brawl spilt out from the venue onto nearby Gooch Street.
The nightspot was also once forced to close over 'suspicious activity'. A man was assaulted with a metal mop handle. The Digbeth venue closed for one night only in March last year but reopened the following day after magistrates rejected an attempt by
West Midlands Police to extend the closure. But police never revealed exactly why
they used the closure powers on Arabian Nites, which serves up mocktails and
boasts a dance floor, restaurant and its own bowling alley.
A spokeswoman for West Midlands Police said last year: "Officers temporarily closed the Arabian Nites shisha bar in Bissell Street, Digbeth following reports of suspicious activity."
In 2016, we also told how the nightspot was banned from bringing Crocodiles in as a snappy new attraction. Birmingham City Council pulled the plug on the proposed croc'n'roll nights on the grounds of public safety and animal welfare.
The club's then owner, entrepreneur Qamran Rafique, told how he had been disappointed by the ban as he had hoped revellers would have been able to feed
them.
"It's a bit of a blow because I've paid for them," he said. "A friend is looking after them and I intend to have another go at getting permission. "You can't get more exciting than live crocodiles."