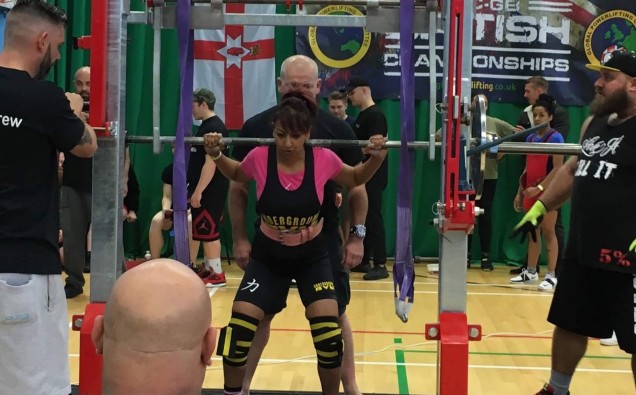 1. Why did you decide to start powerlifting?
After the 2012 London Olympics, I was inspired to start throwing my javelin again after a twenty-five-year break since competing as a teenager at school. I joined Crawley Athletics Club but I kept injuring my shoulder and I was advised to take up strength training to help my upper body.
It quickly became apparent that I was very strong for my age and size and I was encouraged to continue lifting heavy weights. The powerlifting was exhilarating and it became addictive as my body shape changed and my confidence grew. In 2016, I was told by my trainer that I was good enough to compete. In 2016, I qualified for my first British Powerlifting Championships and was thrilled to win a silver medal. In 2017 I went on to win a gold medal.
2. How long have you been powerlifting?
I started in 2013 and my first competition was in October 2016.
3. Where do you see yourself in the next 10 years?
My goal is to hold British and European records in powerlifting. My long-term goal is to start throwing the javelin again. It was my teenage dream one day to represent GB in the Olympics, now that time has long passed but if I could throw the javelin over 30 metres without injuring myself, I will be a very happy athlete.
4. What do you love the most about sports and what is your favourite sport and why?
It's great for my mind as well as my body. I'm not good at watching sport; I need to be taking part! I love fast, dynamic movement, like sprinting, squash, motorbike and formula one racing. The adrenalin rush is exciting and thrilling but it's often over too fast!
5. Who is your favourite powerlifter and why?
Zoe Smith is an English weightlifter who I first watched in the London 2012 Olympic Games. She was part of Team GB and at only 18 years of age, she took the British record with a clean and jerk lift of 121kg. Powerlifting is different, it's not an Olympic sport (yet) but Zoe inspires me for her tenacity, confidence and achievements for such a young person.
6. Being the first female British Asian to qualify for the powerlifting championship, what advice would you give to other Asian women who are interested in sports?
I would love to inspire women and girls to get active, particularly Asian women to take up sports. It is empowering and gives you confidence and is so beneficial for many different reasons. I appreciate it can be challenging due to family and work constraints, cultural and clothing restrictions and fear of judgement but it can be life changing with the right support, education and mindset.
Sports England campaign "This girl can" has had a big impact on the number of girls getting involved with sports. If you want to find out more, check out www.thisgirlcan.co.uk or www.sportengland.org
7. Did you receive any support from your family, regarding your powerlifting career?
I'm very fortunate to have a very supportive family, my husband and children come and watch me at every qualifier and competition and travel with me around the country on exciting road trips! My father was a weightlifter many years ago and he absolutely loves watching and hearing my news. My children train with me in my home gym, using 'baby' dumbbells and they giggle watching me lift my weights! My parents are very proud that I have been selected for Team GB.
8. How would you feel if you won the Asian Women Achievement Award?
I would be euphoric and smiling from ear to ear! The feeling of pride that my hard work and achievements had been recognised would be quite overwhelming.