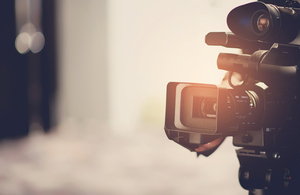 TV and radio audiences could see more high quality British programmes hitting screens and speakers as new laws to maximise the potential of UK broadcasters are debated in Parliament.
The Media Bill, which has its Second Reading in the House of Commons today, will update decades-old legislation to unleash the power of British broadcasters to attract bigger audiences in the UK and abroad, empowering them to invest in new talent and technology while supporting the government's ambition to grow the creative industries by £50 billion and one million jobs by 2030.
Among the Bill's measures, the PSBs are set to gain more control over their TV schedules and on-demand offerings through more flexible rules on the types of programmes they are required to show, allowing each PSB to focus more on the content it is uniquely positioned to deliver.
Following feedback on the draft Bill, the laws will now require PSBs to ensure an "appropriate range of programme genres" are available on their services, protecting against a potential reduction in specialist genres of shows – such as religious, science and arts programming. A specific requirement for PSBs to continue to broadcast news and children's programming is included.
The Bill will ensure British audiences continue to access free live coverage of our biggest sporting moments, like the Fifa World Cup and the Olympic and Paralympic Games. A loophole which could have seen unregulated streaming services bypass the regime that protects free access to these major sport events will be closed, after Ministers updated the Bill.
The new definition of "relevant services" ensures that TV-like services not currently captured by the listed events regime but providing live content to UK audiences via the internet, will now be captured. This will ensure the rights for listed events continue to be offered on fair and reasonable terms to PSBs as sport audience viewing habits evolve.
Opening the debate, Culture Secretary Lucy Frazer is expected to say:
We are in a golden age for the silver screen and our public service broadcasters are a major reason why. Whether it's reality shows like the Great British Bake Off and I'm A Celebrity, or dramas like Time, Happy Valley or Broadchurch – our public service broadcasters have proven they can go toe-to-toe with the streaming giants.
But success today is never a guarantee of success tomorrow. The rise of streaming giants and on-demand content, YouTube and smartphones, tablets and Tik Tok have combined to reshape our whole broadcasting landscape.
It is our job to enact reforms that keep our broadcasters at the top of their game in the years ahead. This Bill will do that by levelling the playing field, removing threats to their sustainability and opening up new opportunities to maximise growth and unlock potential.
This Bill has media freedom at its core. Section 40, and the possibility of publishers having to pay the legal costs of the people who sue them, even if they win, has hung over our media like a Sword of Damocles. This Bill removes the sword for good.
S4C Chief Operating Officer Elin Morris said:
The Media Bill will confirm S4C's position as a multi-platform Welsh-language content provider across the UK and beyond.
The new framework will ensure that indigenous languages, including Welsh, are part of the new public service remit for television in the UK.
The Bill will extend legislation for online TV viewing and ensure that S4C Clic is available on connected TVs and prominent on TV sets in Wales.
This will allow us to further develop our services and place Welsh-language content on the main platforms across the UK.
Other measures in the Media Bill
The legislation will support our world-class public service broadcasters – the BBC, ITV, Channel 4, Channel 5, STV and S4C – through new requirements for their apps and content to be shown prominently on popular smart TVs and streaming sticks.
Audiences will benefit from stronger protections from harmful or age-inappropriate shows through a new Ofcom regulated Video-on-demand Code on the biggest streaming platforms and new requirements for subtitling, audio description and signing to cover mainstream on-demand services.
UK radio will receive new protections to ensure services are easily accessible on smart speakers – from major national stations to the smallest community stations – and obsolete red tape putting an unnecessary burden on commercial radio services will be removed.
Laws which threatened to force newspapers to pay both sides' costs in any legal proceedings, even if they won, will be repealed via the Bill. The Bill will boost S4C, the Welsh language broadcaster, by allowing it to broaden its reach in the UK and beyond and offer its content on a range of new digital services.
As announced earlier this month, Channel 4 will get new freedoms to make and own its content to boost its long-term sustainability, while new safeguards for production companies would protect millions of pounds of investment in programmes made by independent TV producers across the UK.