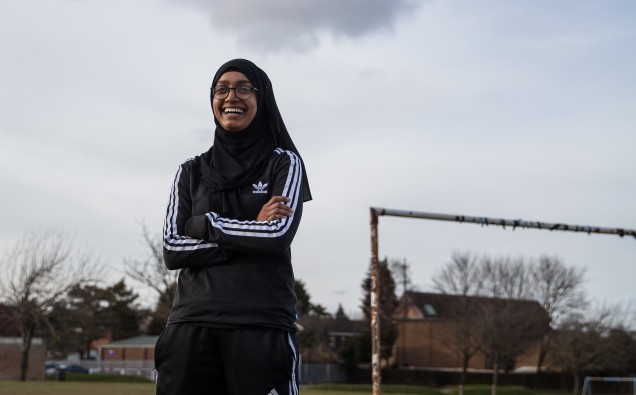 Community group, Luton Tigers, has launched an inspiring video showcasing 19-year-old female Muslim footballer, Humaira Tansim.
Luton Tigers use various activities to engage kids of all ages and place the 'Lutonian' identity at the heart of each individual they work with. This latest video, titled 'Now You See Me' is the first of a series of videos the group are planning to release over the next few months highlighting community champions who defy stereotypes and embody the character and diversity of the town.
In the video, Humaira talks about there being more to her than just her Muslim identity, saying it's just a "small piece of a big puzzle", and that "when you really get to know someone, it can break down the stereotype you first had about that individual."
Attempting to reshape stereotypes around sportswomen, Muslims and Luton town more generally, Humaira finishes by claiming: "football is one part of me, but there's many parts to me".
Humaira was introduced to football by her older brother and, after finding a knack for it, was asked to become a football coach at Luton Tigers where she now coaches one of the girl's teams. Outside of football, she studies at the University of Bedfordshire and hopes to one day become a teacher at a secondary school, so she can continue to give back to the local community.
This 'Now You See Me' film launch follows the '#WeAreLuton' video produced by the group in March, one version receiving over 150,000 views online.
Luton Tigers co-Founder, Shaz Zaman, said:
 "Challenging stereotypes and labels is at the heart of what Luton Tigers seek to achieve, and Humaira's story encapsulates that mindset perfectly, rewriting the narratives placed upon her and championing the Lutonian spirit.
 "At Luton Tigers, we believe in young people and use sport to help unlock their incredible talents – benefiting not only their lives, but the communities around them. Humaira demonstrates that with grit and perseverance anything is achievable, and we would encourage all young members of the local community to carry a similar mentality."
The film was launched at the Luton Tigers Annual General Meeting (AGM) on Wednesday 18th April where they brought together various community voices from the town, plans for the year ahead were discussed and young Luton Tigers were presented with certificates.
Please see video below:
https://www.facebook.com/LutonTigers/videos/1709253499154096/]
Twitter: https://twitter.com/LutonTigers
Facebook: https://www.facebook.com/LutonTigers/
Youtube: https://www.youtube.com/channel/UCp9Mgq60acALpjHzUCcpW8g