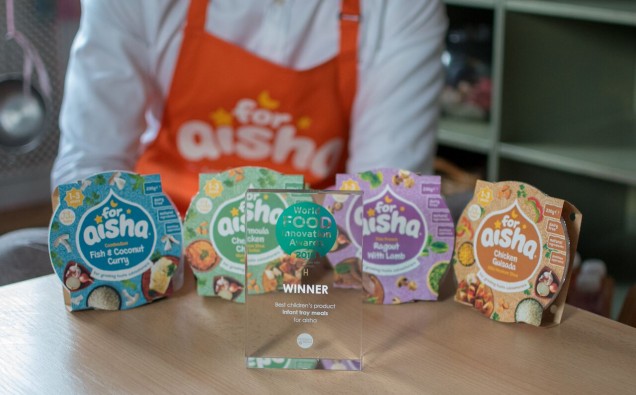 For Aisha, baby food (www.foraisha.com) will launch nationally across branches of Sainsbury's from 14th April 2018 onwards.
For Aisha, a leading baby food brand which caters to dietary requirements such as dairy-free
and halal diets is also available from leading UK retailers such as Boots, Asda, Tesco, Morrisons, Ocado and Whole Foods.
Sainsbury's is to stock all 14 of the For Aisha products – the entire range. This includes the four new 230g toddler tray meals for "Growing Taste Adventurers" for ages one to three years, the four award-winning 190g tray meals for 10 months+ and the six proven 130g baby food pouches for children aged seven months+.
The brand new For Aisha range aimed at toddlers has already won Best Children's Food Brand in the World Food Innovation Awards 2018 – even before it's launch!
These meals feature a complex range of high-quality ingredients with unique recipes such as Mexican Chicken Guisada and a Cambodian Fish & Coconut Curry.
Mark Salter, For Aisha's Founder, commented: "We're stocked in all four of the UK's biggest baby food retailers. We're thrilled to be able to add Sainsbury's to the list particularly as they have several stores in London, where the demand for high-quality halal food products and convenience food is so important to shoppers."