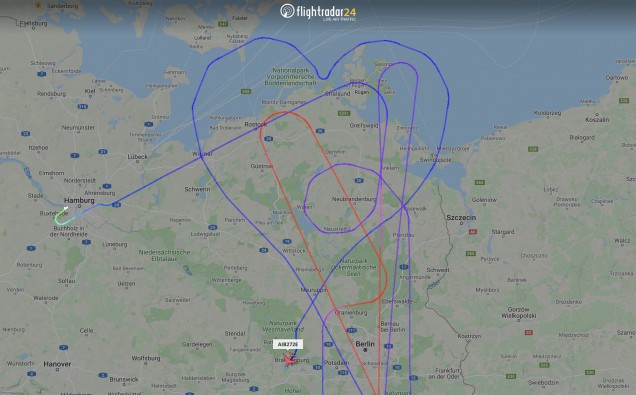 A380 is an aircraft which is loved and preferred by most of the people , for many it's the first choice to fly in as a passenger. But as thing's in this world never remain forever and they have to end someday. Due to rising fuel costs, high price tag , changing market requirements and last but not the least covid19 pandemic made many airlines change their decisions to shift their preference to more efficient twinjet options. So Airbus decided to end the production by producing the last A380 for Emirates.
The last produced A380 registered as A6-EVS conducted its final test flight and to make this day remembered forever by the people , crew of this super jumbo drew heart in the sky over the north of Germany with it's flight path . Flightradar24 reported, "The plane departed to take the final a380 test flight from Hamburg for a tour of northeast Germany as it gave a heartfelt Goodbye message to the superjumbo in the sky."  
Airbus tweeted, " As we get ready to hand over MSN 272 to @emirates , here's our flight test team sending some (Love) to all #380 fans out there".
In response to the above Airbus tweet, Emirates replied, " Nothing but Love for the A380, as the final superjumbo to join our fleet takes to the skies for one last test flight."
Emirates received their 123rd A380 in Hamburg on December 16th, 2021. 
Thus, this superjumbo will never be forgotten and Love for A380 will never end.
By: Rida Khan ( Aviation Author )
( Instagram A/c : aviationauthor.ridakhan )