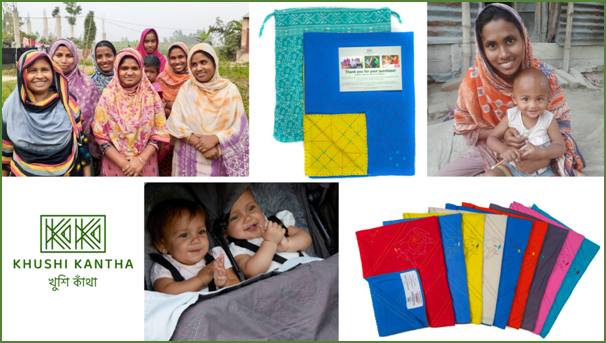 A social enterprise operating between Stoke Newington, London and Dinajpur, Bangladesh, which reworks the Bengali 'kantha' tradition of repurposing old saris into baby blankets, creating opportunities for mothers in Bangladesh to provide for their children with dignity, has won the 'Mission Possible' award for best social enterprise at this year's Small Awards.
The award recognises a small business that is driven by its mission over and above financial performance, that benefits a group, a community or society more widely.
Founder Laura Rana, who started her social enterprise when her half-British, half-Bangladeshi twin daughters who inspired the idea were just a few months old, was crowned the winner at this year's glittering celebration event in London.
Khushi Kantha got started thanks to winning a place on the prestigious Cambridge Social Ventures Incubator, and launched a successful crowdfunding campaign on Earth Day 2021, raising over £10,000 to create their first collection of' Happy Blankets'.
They have recently launched their first Impact Report.
Laura said:
"I first moved to Bangladesh in 2009, through my career in the international development and humanitarian sector.
Time and time again, I've been amazed by the resilience and generosity of Bangladeshi mothers living below the poverty line.
It's been a long-standing dream of mine to use everything I've experienced and learned over the past decade to start my own initiative, working directly with women whose position I could be in if circumstances were different.
When I became pregnant while working on the humanitarian response to the Rohingya refugee crisis in Cox's Bazar, I couldn't stop thinking about all the opportunities my daughters would have, compared to the children of the mothers all around me.
Setting up a social enterprise operating between the UK and Bangladesh during a global pandemic as a single mum of baby twins has been a bit of a challenge, so the 'Mission Possible' category seems quite fitting!
And the challenges I've experienced are nothing compared to those faced by the mothers I'm partnering with in Bangladesh every day. All mothers want the best for their children – and
will use every resource they have to offer them the future they deserve.
We hope that the recognition brought by winning this award will help us build up our customer base, so we can create sustainable opportunities for the mothers we're partnering with, and break the inter-generational transmission of poverty.
It was particularly special that we won the award exactly a year to the day after the successful closure of the crowdfunding campaign that enabled us to create our first ever collection of Happy Blankets."
In its sixth year, The Small Awards is a nationwide search for the smallest and greatest firms in the UK, across all sectors. It is organised annually by Small Business Britain, which champions, inspires and accelerates small businesses in the UK.
Khushi Kantha (Happy Blanket) Community Interest Company won the award alongside 11 other winning small firms from across the UK.
"Congratulations to Khushi Kantha, who impressed our team and judges with their inspiring business which makes such a fantastic impact," said Michelle Ovens CBE, Founder of Small Business Britain and the Small Awards
"It remains a challenging time for the whole small business community, but it is so positive to be back together celebrating the amazing contribution of small firms like Khushi Kantha."
The Small Awards is judged by a panel of leading enterprise experts. Guests at the event were treated to a dazzling display of entertainment by the West End's Phoenix Arts Club and inclusive dance group, DanceSyndrome, along with fine food and drink by independent caterers Boulevard Events.