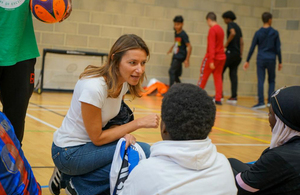 Lioness legend Jill Scott MBE, Olympic gold medalist Daley Thompson CBE, and former No10 Delivery Unit chief Sir Michael Barber are joining the Government's National Physical Activity Taskforce to help get millions more people involved in sport and physical activity by 2030.
Scott, Thompson and Barber join rugby union legend Ugo Monye as part of the taskforce, which was established as part of the Government's national sport strategy.
The taskforce will feature industry body representatives from UK Sport, Sport England, Active Travel England, alongside members from the sports world and the Government. They have been brought together to champion the physical and mental health benefits of sport and physical activity, and drive up participation across all demographics.
Culture Secretary Lucy Frazer said:
I am delighted that Jill, Daley and Michael are joining this taskforce which is bringing together the best of Government and sport so we can deliver on our ambition of having 3.5 million more people active by 2030.

Their expert knowledge and experience will help us access hard-to-reach communities who remain stubbornly inactive, to ensure that we reach our ambitious targets and see millions of people enjoy a happier and healthier life.
Ugo Monye, National Physical Activity Taskforce co-Chair said:
We have seen so many inspirational sporting moments this year, particularly from our women's teams, and I am passionate about cementing that legacy and making sure more people get involved in sport and physical activity.

The taskforce brings together the key players from sport and Government and I am confident that we can really make a difference and achieve our ambitious aim to get 3.5 million more people active by 2030.
The taskforce is tasked with driving up participation levels across the country, and helping the Government achieve its ambition of getting one million more adults and 2.5 million more young people meeting the Chief Medical Officer's guidance of 150 minutes per week for adults, and 60 minutes per day for young people by 2030.
Former Lioness Jill Scott MBE and independent member of the National Physical Activity Taskforce said:
What the Lionesses have achieved over the past year has been amazing, but as we've always said, success is not only determined by on the pitch results. It is equally about securing a legacy where more people are inspired to get into football and sport more broadly.

The current investment in grassroots facilities will play a massive part in that. Millions of people will be offered safe and welcoming places to play, right on their doorsteps.

Sport can provide a real sense of togetherness, an opportunity to make friends, get fit, and be healthy. I'm proud to play my part in encouraging people of all ages and backgrounds to join this national activity drive, which can only benefit us all.
Double Olympic Decathlon Champion and independent member of the National Physical Activity Taskforce Daley Thompson CBE said:
Since I retired from professional athletics back in 1992, I've made promoting the importance of fitness a key part of my life.

From training professional football clubs, to running free online workout sessions during the pandemic and opening my own fitness club, I want exercise to be available to everyone.

I'm delighted to be a part of this taskforce. By working together, I believe we can make a positive difference to the nation's health and wellbeing.
Sir Michael Barber said:
I am honoured to be joining the Secretary of State and some true legends of sport on this important taskforce.

Regular physical activity is vital for everyone, whoever they are, whatever their background and whatever their age.

The achievement of the ambitious goals the government has set will require a systematic and consistent drive for delivery right across the country and I hope to be able to help with that.
As part of today's announcement the Government has also committed funding to the initial stages of a national advertising campaign to support the work of the taskforce. The national advertising campaign, set to launch next year, will be overseen by the taskforce and will be used to raise awareness of the Government's physical activity drive for children.
The taskforce will continue to meet regularly to track progress against targets and bring national governing bodies and sector partners around the table to advise and plan how best to tackle high levels of inactivity.
To support the delivery of the Government's strategy almost £400 million is being invested in grassroots facilities, including in multi-sport facilities, swimming pools and tennis courts.
More than £600 million will also be invested over the next two years for school sport and PE. It will focus on making it clear girls have the same access as boys – building on the success of the Lionesses at UEFA Women's EURO 2022 last year, and their recent FIFA Women's World Cup 2023 campaign.