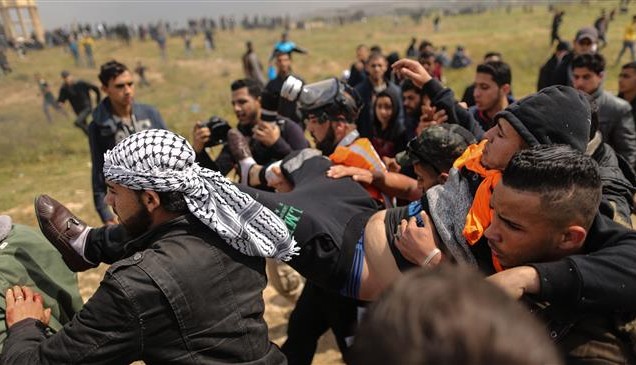 58 Palestinians including a 9-month-old baby were killed by the Israeli military in Gaza following the most shocking and bloodthirsty act of violence since the war in 2014.
Israeli forces opened fire on Palestinian protestors along the eastern Gaza-Israel border, killing at least 58 and injuring over 2700.
Meanwhile, just a few miles away, government dignitaries celebrated the relocation of the US embassy from Tel Aviv to Jerusalem, the capital city of Palestine, a move which Palestinians see as a transparent indication of a US-supported attempt by Israel to gain total control of the partitioned capital.
Israeli troops warned that there would be a follow-up of the offence the next day, but Palestinians would not be protesting on that day; instead, they would bury their dead.
The Gaza Health Ministry said that 58 people were killed in total, 57 by Israeli gunfire and a baby who died from lethal inhalation of tear gas.
Of 2700 injured, 1360 were shot, and 130 were in critical condition, it was reported by the ministry.
The violence took place on the 70th anniversary of the "Nakba" – the commemoration of the 1948 Middle Eastern war which exiled thousands of Palestinians from their land and homes in order to create Israel. The mass exodus led to the ongoing Palestinian refugee crisis which until today, has not been solved.
Israel's military defended itself by accusing Hamas of attempting to carry out attacks behind the guise of the protests, claiming they had intercepted Hamas trying to cross the border and throwing "pipe bombs and grenades at the soldiers and security fence."
It claimed that they had only opened fire at "targets of terrorist activity" and also said that Palestinian protestors threw firebombs, grenades, and stones during a number of protests at several positions along the border.
Israel was criticised by the UN for its use of lethal force.
"The mere fact of approaching a fence is not a lethal, life-threatening act, so that does not warrant being shot," spokesman Rupert Colville told reporters in Geneva.
During a special session of the UN Human Rights Council in Geneva, Human Rights Chief Zeid Ra'ad Al-Hussain said that Israel's use of force was "wholly disproportionate" and pointed out that there was a "stark contrast" between casualties on both sides.
He mentioned that many of the Palestinians killed or injured had been unarmed and that there had been "little evidence" of any Israeli "attempt to minimise casualties."
"Although some of the demonstrators threw Molotov cocktails, used slingshots to throw stones, flew burning kites into Israel and attempted to use wire-cutters against the two fences between Gaza and Israel, these actions alone do not appear to constitute the imminent threat to life or deadly injury which could justify the use of lethal force," he said.
The UN declared it would launch an international war crimes investigation into Israel's shooting of protestors.