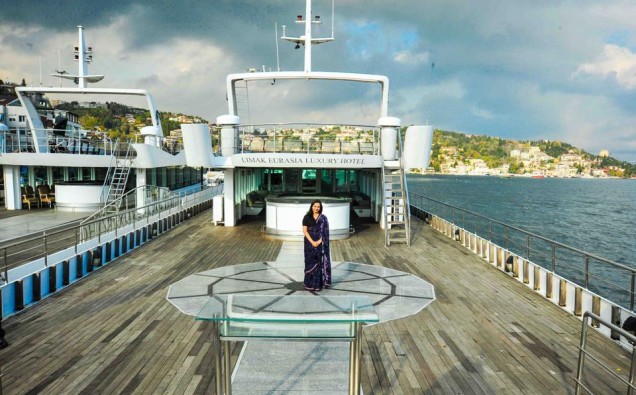 Having a serious craving for the crunchy Cod from Poppy's at Shoreditch?
Or that true British staple Bangers and Mash – a mix of sausage and potatoes to keep you full and warm all day?
And want to wash it down with the delicious Eton Mess – the famous British invention of crushed meringue, cream and strawberries from the Café of the National Gallery?
Don't worry.
You don't have to travel a few thousand kilometres – all the way from India to London – to satiate your taste buds.
Gods of the British kitchen are all set to descend on India later this year – thanks to the largest floating restaurants on the sea coming up in the country's financial capital – Mumbai.
First-time restauranteur Shripriya Dalmia Thirani who is all set to open two large floating restaurants – each with the capacity to have 450 diners at any given time – the first such venture of this size on Mumbai's Arabian Sea is keen to serve up iconic British delicacies to veritable Indian diners.
Thirani is believed to be scouting through London – sourcing the best British chefs to get on board her two ships – Queensline Sea YAH and Queensline Neverland which are expected to open their gates in November.
On a recent trip to London, Thirani confirmed saying "Indians have now emerged as among the biggest spenders when holidaying in London. Britain's capital over 16 million international visitors in one year for the first time in history making it the most popular holiday destination in the world, But it was the Indians who were found to be the main spenders. Indian visitors spent around £159 million in London alone, much of it on food and entertainment. I am therefore keen that the Indians who can't travel to London can have London travel to them".
"Britain loves Indian food and the same is true for Indians. They love British food – be it the world famous fish and chips or the Sunday Roast or even the sticky toffee pudding. I am very keen to provide on my ships and in my restaurants an international flavour – food from across the world. Britain will be one of my focus countries".
"I am therefore in London sourcing not just the Gods of the kitchen but also great chefs who can use the platform of our ships to become the name they deserve. The Queensline Food Series is one of India's iconic projects and it is bound to give these chefs a platform of feeding millions of people who love international cuisine.  
And don't forget this is in Mumbai – India's financial capital and home to India's largest number of super rich. This is an exposure no one can give up," Thirani added.
London has seen a massive food movement over the past decade and is now regarded as the world's gastronomy capital – home to 17,000 restaurants.
London has 61 Michelin-starred restaurants of which two have three stars, nine have two stars and 50 have one star. Six of the starred restaurants are Indian, eight are Asian and one, Lima is Peruvian. Comprehensive statistics for the total number of restaurants in London are hard to come by but some databases say London has 410 American restaurants, 418 Asian, 70 African, 82 Caribbean, 499 Chinese, 32 Eastern European, 558 French, 10 German, 99 Greek, 955 Indian, 26 Irish, 1,388 Italian, 350 Japanese, 138 Mexican, 263 Middle Eastern, 125 South American, 233 Spanish, 360 Thai and 99 Vietnamese. 
London is also home to 49 celebrity chef restaurants. Two of these restaurants have the converted three-stars namely Gordon Ramsey and Alain Ducasse at the Dorchester.
Every day in London around 30 million meals are eaten. More than half a million Londoners are employed in food businesses that turn over £20 billion every year. Food has become a serious business here. More than 38,000 food businesses grow, make or sell food within the capital. London alone exports more than £1.8bn worth of food and drink products annually.
It has been the idea of the senior minister in prime minister Narendra Modi's cabinet – Nitin Gadkare to open up Mumbai's Eastern Sea front and turn it into a Riviera similar to that in the Mediterranean or Western countries. Passengers will be picked up from designated points across Mumbai's coastline and taken on board the ship for an "unparalleled dining session coupled with a cruise that would allow people to see the city from the water".
Shripriya says India's food industry is reeling under a wave of experiential dining.
"It isn't just the sight of the food that is turning us on – what we hear, smell and touch, adding and deciding on a fair meal as against a spectacular one. In recent years, a growing number of studies have shown that taste can be influenced by a host of surprising factors, one of which being environment (where you eat) and memory (what you take back)," she says.
She added "The floating restaurants will not just whip up the best food money can offer but also bring with the sounds of waves lapping against the shore and a view of Mumbai's enviable skyline to blow our senses. Celebration, a quiet family time, weddings or even a corporate get together will have an all new meaning with that view and an absolutely explosive gastronomic experience".
Thirani's ships will docked a few miles into the sea.
Diners and those coming on to enjoy a cruise will be taken on small boats giving them a real feel of sailing on the sea.
She says "Food is central to the DNA of India. Demographically, it is also one of the youngest markets with more than 45% of the population below the age of 25 years. The psychographic profiling of India's youth confirms that they are very liberal, enjoy experimentation and greater consumption. Eating out is a habit and not an occasion driven activity.
The rise of eating out economy has propelled the restaurant industry to $48 billion, according to a report by the National Restaurant Association of India".
Interestingly Mumbai is the tourism hub of India which boasts of over 55 million domestic visitors and 5.10 million international visitors annually. Over 15 million people inhabit the city. Mumbai houses over 500 restaurants. But till now, not a single restaurant has been on the Arabian sea.
Thirani said "Imagine a classic Turkish vessel standing majestically off the coast near Gateway of India and Chowpatty. Adding to the historic view and a delectable feast, this vessel will have an international feel to it from the outside and have the warmth of an Indian embrace from the inside. A meal ceases to be just a meal then. What it ends up becoming is a feast for all our senses".
According to her, people in Mumbai love going out and experiencing new cuisines. This makes her confident that they will embrace the floating restaurants with tremendous warmth.
It is India's richest city with total wealth of $820 billion. Mumbai is home to 46,000 millionaires, 28 billionaires compared to 23,000 millionaires, 18 billionaires in Delhi and 7,700 millionaires, 8 billionaires in Bengaluru.
"Mumbai's coastline with the impressive city scape can give a lot of global sea side cities a run for its money. I am certain that once the restaurant begins to operate, lots of new businesses will come up around the sea. Dining on the water will then become a must do for everyone just like it is for tourists who go to Monte Carlo or the French Riviera. I envisage that the ship will open its doors by November 2018. Pre booking will begin in August.
The demand for seats is already shooting through the roof with people asking us personally from now itself on how they can book a table," according to Thirani who is a mother of three, an alumni from The Indian Institute of Learning and Management which is affiliated to the University of Bradford and an MBA from Symbiosis Pune.