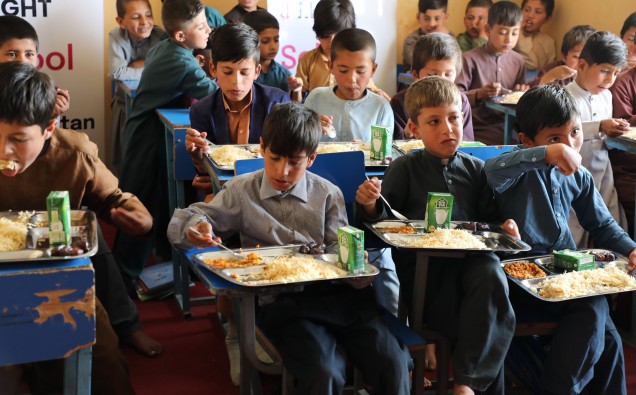 School children are set to take part in a fundraiser this July created by food poverty charity, Charity Right, named Ditch It for Dhul Hijjah.
Children in schools across Bradford, London and Blackburn will be giving up one of their everyday treats, from consoles and time on tablets to chocolates and sweets to raise money for starving school children in some of the hungriest countries in the world.
Children within Olive Tree School, Al Barakha, Al Nakhon, Raising Explorer's and Abu Hanifa School will be fundraising throughout the month of Dhul Hijjah, which falls in July, and is the month in which pilgrims make their way to Makkah in Saudi Arabia.
Each child has been given a target to raise £150 which will provide a years' worth of school meals to a child living in severe poverty in countries such as Sudan and Bangladesh.
The beneficiaries have no access to regular food and are encouraged to work over attending education in order to provide for themselves and their family.
The school meals not only provide consistent nutrients, but also act as an incentive to send children to school and bring them out of the poverty cycle, in turn, giving them the opportunity of a brighter and more prosperous future.
Muslims are encouraged to donate during Dhul Hijjah as during the holy month charitable deeds reap a wealth of benefits, specifically during the first 10 days of the month, which are understood to be even more sacred than the final nights of Ramadan, making it a great period for the school children to fundraise.
The fundraiser comes as over 800 million people currently go without food, experiencing some level of hunger and this statistic is on the rise, according to Action Against Hunger.
Sajad Mahmood, CEO of Charity Right, says "When children experience acute levels of hunger at such an early age, they will be affected by long term health issues, such as stunting, and cognitive restrictions."
He states that 14 million children under the age of 5 experience severe acute malnutrition worldwide.
Both the charity and the schools taking part believe that it is extremely important to educate these school children on.
"It's inspiring to see children from these schools taking the initiative to fundraise for those less fortunate than themselves", adds Mahmood.
http://www.charityright.org.uk/