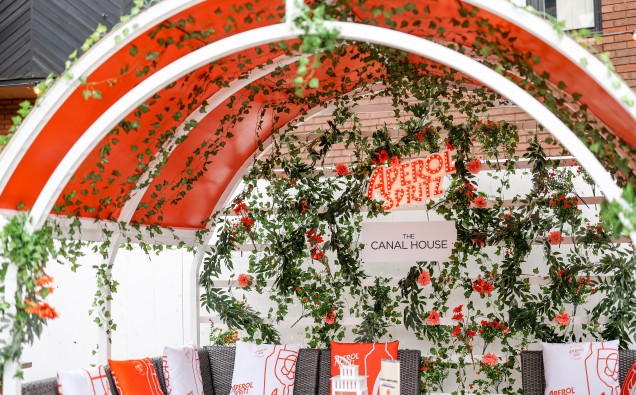 As the UK embraces the joy of the al fresco lifestyle this summer, Aperol – the iconic Italian Aperitivo – is reimagining a stunning Italian square in the heart of Birmingham with Piazza Aperol, a modern twist on the perfect location for an impromptu Aperol Spritz with friends.  
Piazza Aperol features affectionate nods to the romance of a traditional Italian square as the centre of town life for meeting, socialising, gossip and, of course, Aperitivo.  
Open throughout the summer from 12pm until 11pm on weeknights, and until 1am on Friday and Saturday. Piazza Aperol truly comes to life at the moment when the working day ends and the evening begins, with bittersweet Aperol Spritz refreshing the palate, whetting the appetite, and helping saying salute! to a spontaneous serata. 
Starting in London's original and iconic piazza, Covent Garden, Piazza Aperol opens as a cultural shift is underway in the UK. Britons seem to be finally falling in love with the spontaneous, continental-style, outdoor café culture, as seen in scores of temporary pavement licenses for pubs and bars now being made permanent, I as well as the surge in popularity for Aperitivo. 
Ringed with orange trees and ample seating areas – Piazza Aperol will spritz up any social feed with Insta-worthy moments. Not to mention creating those joyous moments of connection to be savoured forever. 
Loris Contro, Campari Group UK Italian Icons Brand Ambassador, said "The Italian piazza is the beating heart of any town or city, where family and friends come together to mark the end of the working day, and the beginning of the evening to come. 
"With this summer set to be more sociable than ever, Piazza Aperol will transport you to Italy with its celebration of the spontaneous and joyful, continental way of life. As an Italian, I know how important embracing these moments is, and what better way to do it than in the sunshine with a perfectly poured Aperol Spritz and good company?" 
The Aperol Spritz – the best-selling branded cocktail in the UKii and the worldiii – is a delicious, bittersweet and refreshing way to kick off your summer evenings 'spritz style'. People can enjoy an Aperitivo with friends at the Piazza Aperol in: 
·       Birmingham Canal House opening times 
o   Monday 12:00 – 23:00 
o   Tuesday 12:00 – 23:00 
o   Wednesday 12:00 – 23:00 
o   Thursday 12:00 – 00:00 
o   Friday 12:00 – 01:00 
o   Saturday 09:00 – 01:00 
o   Sunday 09:00 – 00:00 
How to make the Perfect Aperol Spritz   
Ingredients:  
·                Three parts Prosecco (75ml)  
·                Two parts Aperol (50ml)  
·                One part soda water (25ml)  
·                Orange slice   
Method:  
·                Fill a large wine glass with ice  
·                Combine Prosecco followed by Aperol   
·                Add a dash of soda and stir  
·                Garnish with a fresh orange slice